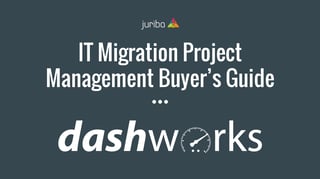 It's no secret that IT migration projects can quickly become a nightmare if not managed correctly — they quickly get out of hand; taking far too long and becoming increasingly costly and risky.
For too long, IT project managers had to wrestle messy Excel spreadsheets and hand-cranked databases to manage their mission-critical hardware refresh, email migration or OS upgrade because there was no other option. Now there is Dashworks, a central command and control tool specifically built to streamline how enterprises manage their IT transformation projects!
To make your decision to move forward with this project management tool easier, we've created this IT Migration Project Management Buyer's Guide. Inside you will find:
An overview of the most commonly faced problems during an IT transformation project

How an IT migration project management tool can help, as well as a short overview of our Dashworks software benefits & features

Answers to the top questions and objections you might face when investigating and purchasing such a toolset

Licensing details as well as a break-down of costs of managing a Windows 10 migration with or without Juriba (spoiler alert: 29% savings!)

How Dashworks can help you going forward
Download this comprehensive and invaluable buyer's guide today - simply fill out the form on the right.