Dashworks Release Notes - Styx
Executive Summary
This release of Dashworks includes several key improvements, including the ability to override locations of imported objects, new options to download and save charts from your dashboard widgets, and further development on organizing lists with tags. You can now group tags by Project, enabling you to identify and manage Lists much more efficiently. A number of improvements build on previous Dashworks releases, for example, enhancing API import, list management, custom fields and Self Service.
Highlights
Location Override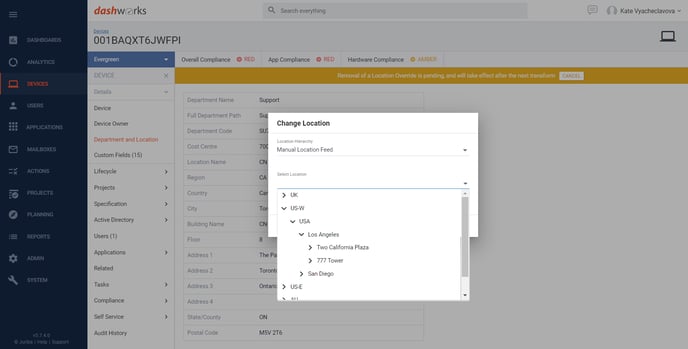 Department and Location data for objects can be bulk imported into Dashworks. In this release, you are now able to manually override the imported Location for a Device, User or Mailbox. This is particularly useful if you want to split objects by Location for use in Self Service, or update the data to indicate the physical location of an object. Manually overridden locations are indicated, and you can filter for objects that have an override.
Group Lists by Project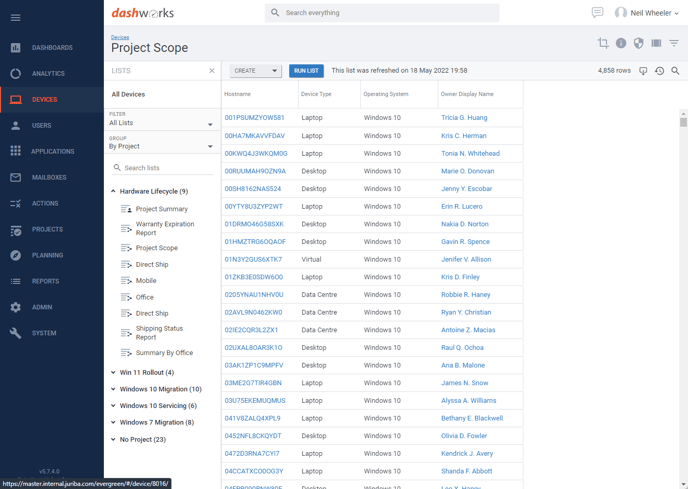 Dashworks Lists are a powerful way of quickly collecting, identifying, and using information. In this release, we have added the ability to group Lists together based on their Project, enabling you to track, identify and manage your Lists more easily.
Dashboard Widgets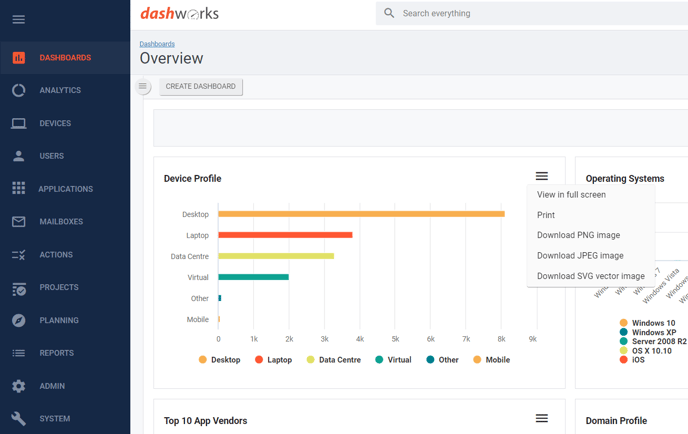 This release includes a number of improvements to Dashboards. You can now print, or download and save your pie, bar, column, line and donut widgets, as well as view them in full-screen. In addition, you can also reposition the legend, helping you to view and present your data more strategically.
What's New?
DAS-32814 In automations, you can use 'Update relative to current value' to update number custom fields. You can also save this operation now using Save as Favourite Bulk Update.
DAS-33574 Audit tables now use partitioning to prevent them increasing indefinitely.
DAS-33405 API endpoints now support importing mailboxes.
DAS-33610 We have extended the existing generic mailbox item import to include Mailbox Folder Permissions.
What's Changed?
DAS-33576 In a Self Service Location component, a temporary chip now shows the updated location rather than the initial location, when the user returns to the page.
DAS-34153 Increased length of Project Name and Description.
DAS-33925 You can now use a cog menu to delete multiple tags in List Details > Tags > Manage Tags.
DAS-33800 Custom Field values can no longer be cleared using the cross icon in the Value column.
DAS-33764 The debug message output of Bulk Mailer has been significantly reduced to show failed events more clearly.
DAS-33706 Performance has been improved on the Reports page by removing object counts from the displayed data.
What's Been Fixed?
DAS-34213 Automations that perform resync now work as expected following upgrade.
DAS-34086 Lists now accommodate the filter values OR-, -OR-, AND-, and -AND-.
DAS-34474 An issue with translations on the Self Service Add components dialog has been resolved.
Known Issues
DAS-30620 LocalPolicyStore connection string not defaulting to the correct drive.
DAS-34492 In Admin > Departments, an error: 'Sequence contains no elements' is displayed if you create a new department before another import is completed.
DAS-34559 [Patch for Styx] - collapsed by default card widget is not sized properly after expending
Notices
All end of support notices are available publicly here.
Dashworks 5.7.6
Dashworks 5.7.6 will be released in early Aug 2022
Dashworks has supported neither Internet Explorer (IE) nor Edge in Internet Explorer Mode since 5.6.1 (Apr 2021). While unsupported, the application has continued to be usable in IE. However, Dashworks 5.7.6 will introduce breaking changes that will result in Dashworks becoming unusable in Internet Explorer from this version onwards. IE 11 is no longer supported by Microsoft on most versions of Windows 10 from 15 Jun 2022.
End of support for Microsoft SQL Server 2016