Dashworks Release Notes - Jason
Executive Summary
I'm very pleased to be able to say that translations have come to Evergreen self service. This is a key piece of functionality when communicating with your organisation enmasse in an inclusive way. The complete translations functionality will be delivered over 2 releases (this release and next release), after which all new self service components which have customisable text will have support for translations. The work on the tasks pages in Evergreen details continues in this release, there is now a new component for selecting time which is used when editing the time element of a date & time task. The new time picker will be used elsewhere in the system in future releases. The last highlight is much improved user experience when uploading CSV files for Stock Inventory. The new progress tracker will become a feature of all data imports via CSV upload.
Highlights
Evergreen Self-Service - Translations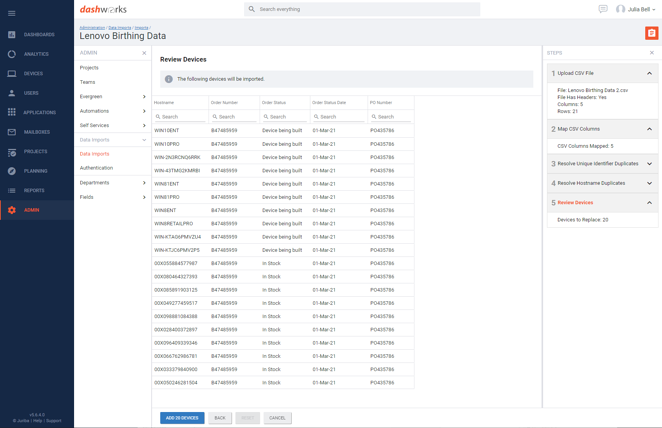 Evergreen Self Service now has the first translation functionality available (DAS-26338). You can select multiple languages for each self service and then add translations for any Page Display Names and Task Aliases. A new dedicated Translations page allows you to conveniently manage all translations together. Coming next are translations for Task Value Aliases and Text Components. Translations ensure maximum engagement from users self scheduling and providing information using Evergreen Self Service by speaking to them in their own language.
Evergreen Details - Date Tasks with Time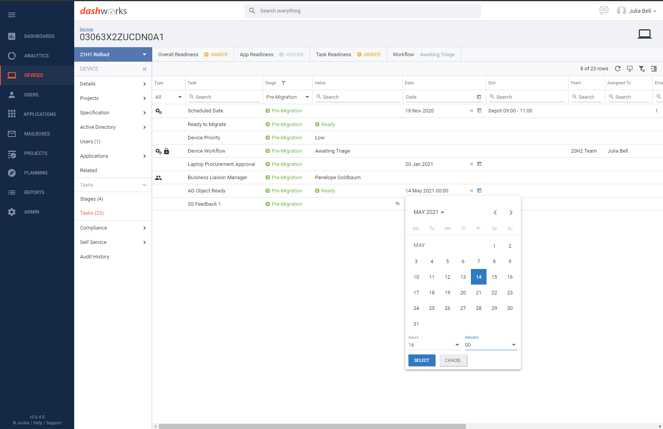 You can now update the time portion of date & time tasks in Evergreen Details (DAS-28139). Previously only the date part of the value was modifiable, for tasks without capacity. In the next release, select tasks will be editable, completing the task edit functionality in Evergreen Details. Date & time tasks are used when an event needs to be scheduled at a more granular level than date alone.
Stock Inventory - Import Progress Tracker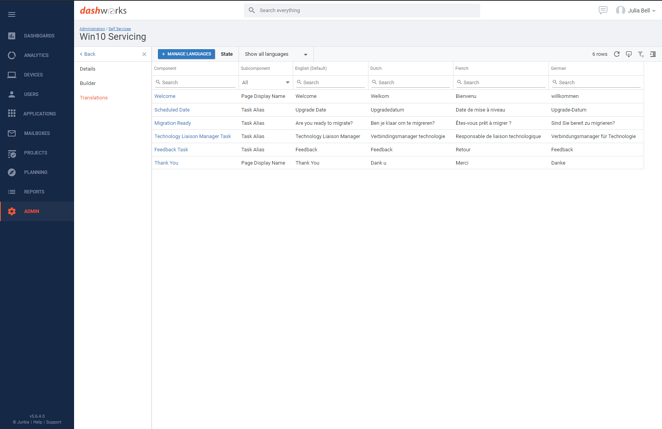 You can now see your progress through the CSV upload process used by Stock Inventory Imports in a convenient "Steps" context panel on the right hand side (DAS-28502). This shows which step you are currently on, how many more steps are in the process and details of the steps you have completed. Stock inventory imports are used to feed data about devices that have been ordered or are in stock before they are online and appear in MECM.
What's New
DAS-28472 Ring Scoping: Logic to evenly distribute rings that are not required to hit target coverage
DAS-28389 Devices: Project Ring filter to include Minimum Devices per App
DAS-27893 Ring Scoping: Explanations tooltip added to Statistics
DAS-28143 Performance: Remove redundant columns and queries from dynamic SQL when ordering
DAS-28147 Performance: In Scope filters on Application lists performance improved
What's Changed
DAS-28345 Ring Scoping: Processing page changed from Devices Processed to Rings Processed, time remaining removed.
What's Been Fixed
DAS-28011 Ring Scoping: Clickthroughs to app lists are not showing the correct list of apps when minimum devices per app is more than 1
DAS-28363 Admin: 500 console error after trying to import a project to the existing project
Known Issues
DAS-28755 Admin. Projects > Project deletion via SQL Server Job "Dashworks Delete Project Data" needs properly treat TaskId column on TaskComponent table to allow deletion of the project
DAS-29149 Evergreen. Results don't relevant to the applied "ProjectName: Owner In Scope - true\false" filter for Snr project if an owner was removed from a device
Notices
For more information about any of the items under notices please contact support@juriba.com