Dashworks Release Notes -Eros
Executive Summary
There is lots to talk about in the 5.5.6 release. Firstly the move of the login page for Dashworks to Evergreen is a tipping point in our journey to a modern, flexible interface. You can now start and end your journey in Dashworks, never having to leave the Evergreen UI. Other key features to come to the Evergreen interface are the object tasks and the administration of paths (previously request types). Self service has also had improvements in the setting of date tasks.
Highlights
Evergreen Details - Tasks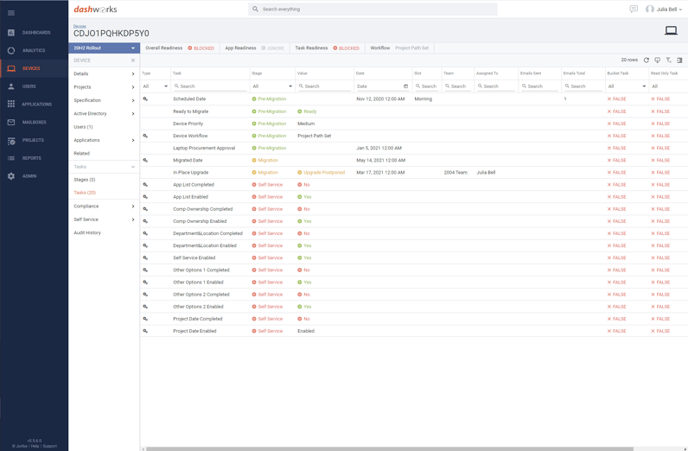 You can now see project tasks in Evergreen on the details page for an object. Tasks sit at the heart of a project and show all the information about that object specific to the project such as scheduled date, readiness and communication preferences. This first release of the Tasks page is read only, with the ability to edit task values coming soon.
Evergreen Login
The default login screen has now moved to Evergreen. This allows you start your user journey in the Evergreen interface and remain there, unless there is a reason that you need to go to the legacy interface.
Evergreen Paths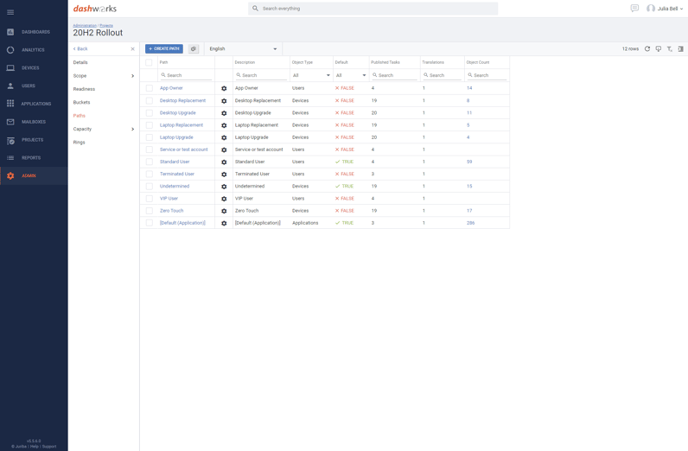 You can now administer paths (previously called request types) in the Evergreen UI. Paths, as the new name suggests, define the path an object takes through the project process. These can be created, edited and deleted in Evergreen, there is also functionality to manage the translations of path names.
What's Improved
DAS-24349 Self Service: Select tasks with a due date
DAS-24608 Self Service: New pop-up date picker for date tasks and select tasks with a due date
DAS-21363, DAS-21365 Reports: Create and manage presets
DAS-24342, DAS-24555 Admin: Department Imports
DAS-24448 Lists: Include Archived Applications
DAS-24439 Lists: List Diagnostics API
DAS-24611 Details: Readiness Overridden column added to Stages
DAS-24986 Lists: 'Empty and Onboarded' operator for date & text tasks
DAS-23604 Background refresh caches running time
DAS-24940 Legacy > Project Object: Hint on task value to indicate invalid slot
DAS-24792 Dashboards: Timeout can be configured in app.json file
What's Changed
DAS-24152 Device Details: Warranty Date & Purchase Date field moved from Specification > Specification to Specification > Purchase Info
DAS-23698 Devices: Warranty Date & Purchase Date field moved from Hardware to Purchase Info
DAS-25207 Admin > Evergreen > Buckets: Project column removed
DAS-24417 The term Request Type has been replaced with Path
DAS-21707 Dashboards: Print preview shown only in print dialog, not in HTML
DAS-17752 Deprecation of Exchange 2003 and 2007 data imports
What's Been Fixed
DAS-25039 Details: Stages > Readiness should reflect the overall stage readiness, not just the override
DAS-25348 Details: Stages > Status bar immediately reflects changes in status
DAS-25429 Details: Stages > Status bar refreshed on page load
DAS-25338 Self Service: When renaming values of a task the label should reflect the original value name
DAS-24777 Lists: Performance issues with projects field on bulk update
DAS-17337 Admin > Projects > Capacity: Tooltips for slots tooltips in Timeline display mode


Known Issues
DAS-26041 Generic feed app entitlement and usage restricted to generic devices
DAS-26173 Lists: 500 error if apply object search in lists which contain columns of different projects
Notices
For more information about any of the items under notices please contact support@juriba.com
Dashworks 5.5.6
This release
Deprecation of imports from Microsoft Exchange Server 2003
Deprecation of imports from Microsoft Exchange Server 2007
Dashworks 5.6.0
Dashworks 5.6.0 will be released in early March 2021
End of support for Dashworks installed on Microsoft Windows Server 2012 R2
End of support for Dashworks installed on Microsoft IIS 8.0
End of support for Dashworks installed on Microsoft IIS 8.5
End of support for Dashworks installed on Microsoft SQL Server 2014
Dashworks 5.6.1
Dashworks 5.6.1 will be released in early Apr 2021
End of support for all versions of Microsoft Internet Explorer