Dashworks Release Notes - Doris
Executive Summary
Self service has had a real boost in its functionality with the introduction of select tasks, making it possible to ask end users custom questions. This can be used to create questionnaires and user surveys or to validate existing data. Additionally date tasks are now available for mailbox and user objects in self service. Update category has been added to the growing list of bulk updates and automations. And the first glimpse of tasks functionality on the Details page has arrived in the form of Stages. Work has been done to improve the performance of dashboards. And finally there is a new placeholder available for use in email templates: custom fields.
Release Notes Video Covering Dashworks 5.5.4 & 5.5.5
Highlights
Self-Service Select Tasks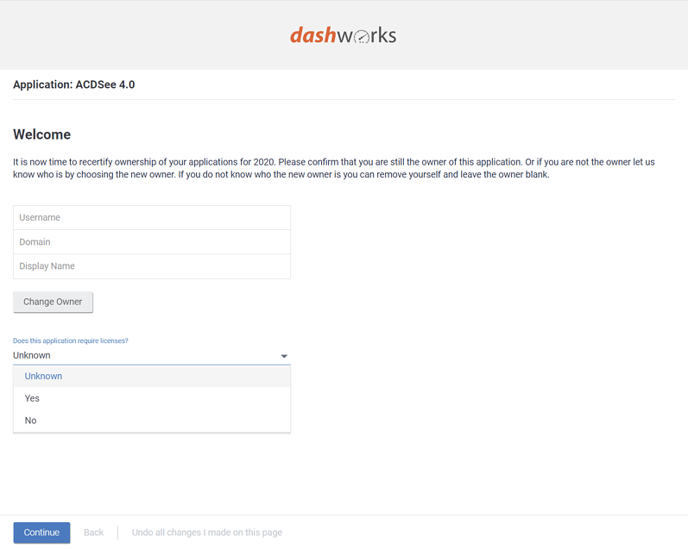 The latest component released for self service is select tasks. These are available for all object types. Both tasks and their values can be renamed within self service. Individual values can also be hidden. This really opens up the possible use cases for self service as select tasks can be used to gather a myriad of different types of information from end users. Where select tasks have dates, the date value will not be exposed in self service, this functionality will come in a later release.
Bulk update & Automation: Update Category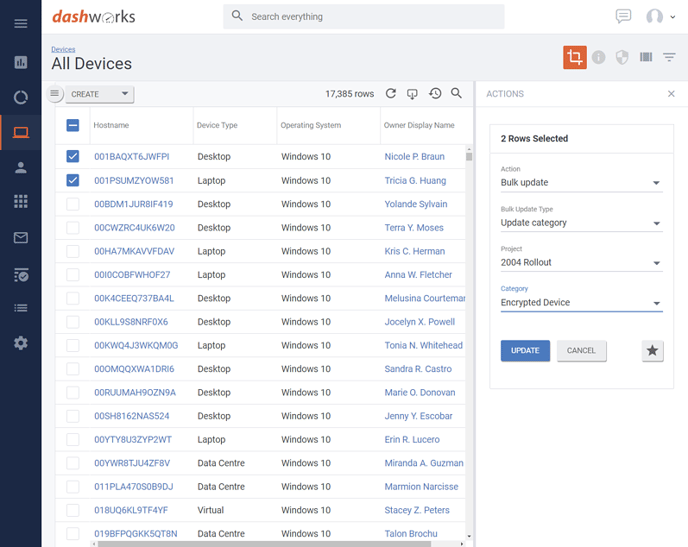 The latest Bulk Update and Automation type is Update Category for Devices, Users, Applications and Mailboxes. This allows you to set or remove a project category for an object. Categories are user defined and are typically used as an additional way to organise objects in a project.
Evergreen Detail: Stages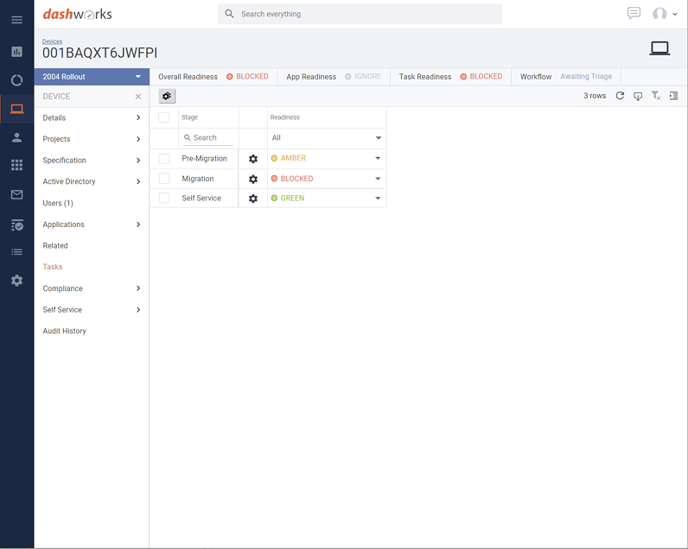 Tasks are coming to the Evergreen details page. The first step of this is to show stages (which tasks are grouped into) and their readiness. The readiness of stages can also be overridden in this first release. Stages show a high level representation of the progress of objects through your project process.
What's Improved
DAS-22135 Details: Update Category (with security)
DAS-22265 Details: Update Path (with security)
DAS-22136 Details: Update Language (with security)
DAS-23083 Self Service: Date task component for users & mailboxes
DAS-19105 Users: Device OS filters
DAS-23753 Dashboards: Improve performance by restricting the number of simultaneous requests
DAS-23751 Dashboards: Improve performance by skipping validation of lists that are used in other widgets
DAS-23771 Lists: Project: Name column values to link to Evergreen details page for the Project
DAS-14493 Mail placeholders for custom fields
What's Changed
DAS-17299 Default path for new projects called 'Unassigned'
What's Been Fixed
DAS-24412 Lists: Date filter using Equals (relative) operator with weekdays ahead shows incorrect results, if the current day is a weekend
DAS-24046 Housekeeping of list processing cannot keep up with number of rows generated
Notices
For more information about any of the items under notices please contact support@juriba.com
Dashworks 5.5.5
This release
New prerequisite of .Net Core Hosting Bundle 3.1 on all Dashworks servers
End of support for all versions of Microsoft Internet Explorer prior to 11
Dashworks 5.5.6
Dashworks 5.5.6 will be released in early Feb 2021
Discontinuation of functionality to import and transform data from Microsoft Exchange Server 2003
Discontinuation of functionality to import and transform data from Microsoft Exchange Server 2007