Dashworks Release Notes - Zenith
Executive Summary
Project applications are now on the user and device details pages, plugging an important gap in the project information available in the Evergreen UI. Application associations within a project are a key piece of information for project administrators, and previously users had to return to the legacy UI to find these. The fact that these are now in the Evergreen Details page creates a smoother user experience. The reports section of Evergreen has arrived, and the first report available is for Bulk Updates which have been performed. Lastly, in small but psychologically important shift, the default page for the Dashworks application is now Evergreen rather than the legacy UI.
Release Notes Video Covering Dashworks 5.5.0 & 5.5.1
Highlights
Device and User Project Applications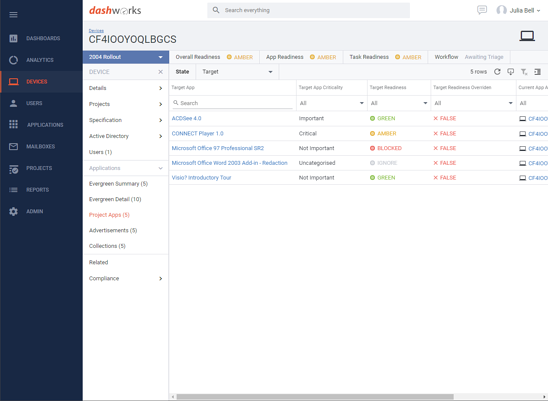 Evergreen Details for both users & devices have an additional page of Project Apps under Applications. This shows the applications associated to the user or device within the chosen project. Similarly to the legacy UI, there are options to see the current apps, the target apps or both of these side by side. In this version the information is read only, with enhancements to enable you to edit readiness and association coming soon.
Bulk Update Log
The bulk update report is the first item in Reports. Here you can check if bulk updates that you have performed have succeeded or failed. The results can be sorted and filtered with more detail of the bulk update itself and the batches of objects, available when drilling down. Currently only bulk updates for the logged in user are shown.
Simplified Self Service for Application Owners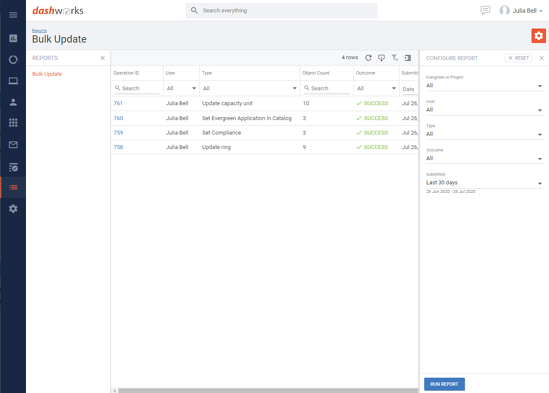 What's Improved
Self Service
DAS-20960 There is now the option to include users that are outside the project in Self Service App Ownership, these will then be onboarded as part of the self service process


If an Evergreen project is selected then the App Owner Scope list from the project is used
If a Legacy project is selected then admin user needs to set the App Owner Scope

DAS-21084 Scope column is now a link
Details
DAS-17563 Users are able to change Hide From End Users under Application > Project Details
DAS-21407 The Project/Evergreen switcher is not clickable when the Object is not onboarded into any projects
Lists
DAS-21543 Filters for ID columns have been introduced to support all possible clickthroughs from pivots
DAS-21354 Self services information on List Details context panel
DAS-21799 Tooltips for column headers
DAS-21480 0 values in columns should be displayed as blanks
DAS-21117 Dates in pivots should default to being sorted from the earliest on the left to the latest on the right
Dashboards
DAS-21300 Widgets do not need to be refreshed following drag and drop to another section
What's Changed
Self Service
DAS-21771 Self Service Identifier renamed to Self Service Short Name
Lists
DAS-21525 Project admins can no longer perform bulk update, and must also have the bulk update role; existing project administrators have had the bulk updater role added
DAS-21622 Users: Mailbox Count (Owned) & (Access) have been moved to the Mailbox category
DAS-21574 Evergreen Capacity Units: filters now refer to the ID instead of the name
DAS-21575 Evergreen Buckets: filters now refer to the ID instead of the name
DAS-21569 Evergreen Rings: filters now refer to the ID instead of the name
Admin
DAS-20984 Automations: Only public lists are available to be chosen as the scope
DAS-21293 Projects: Only public lists are available to be chosen as the scope
Other
DAS-21505 Warning for DSPRC Database Service Account names longer that 20 characters
DAS-21427 Move Dashworks default home page to Evergreen
DAS-21163 Support for Altiris 6 has been removed
DAS-21514 Hide 'Onboard mailbox users with permissions' on Senior Manage Project Details page for Evergreen projects
DAS-21781 Save and add another value button when creating a task has been removed
What's Been Fixed
Self Service
DAS-22030 Menu isn't shown if a user clicks on cog menu without saving changes for any component
Admin
DAS-21609 Automations are not respecting priority when run manually
Known Issues
Self Service
DAS- 22013 Intermittent issue with onboarding users into a project if there are already a very large number of objects in the onboarding queue
Other
DAS-22452 Data imports page error is shown instead of the Product is not activated page error, when Dashworks is not licensed
DAS-22207 Windows auth users don't get Azman permissions until visiting the Legacy UI