Dashworks Release Notes - Xray
Executive Summary
Dashworks 5.4.9 comes with some big new features that collectively make the Evergreen user experience much more functional. Favourite Bulk Update will make a huge improvement in productivity for anyone who frequently updates data in Dashworks. In a breakthrough in bringing the functionality of the legacy UI to Evergreen, you can now click through on pivots to the underlying data. This truly brings to life the concept of starting at a very high level view and drilling down to the lowest level of detail. Device filters on the Users list are another of Dashworks' very useful "double hop" filters that allow you to filter users on a property of a device they own.
Watch the latest Release Notes Video here (12 mins).
Highlights
Favourite Bulk Updates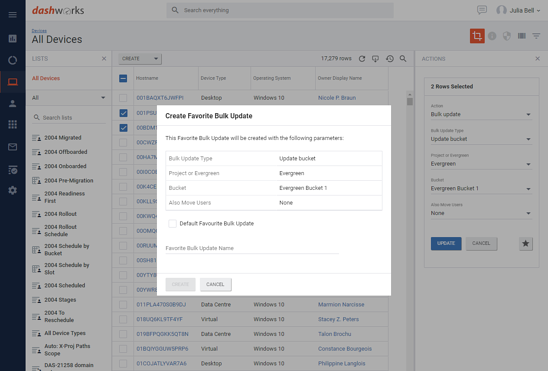 When performing a Bulk Update, you can now save it to use again in the future. You can save all of the parameters or some of them, giving you the flexibility to leave some parameters open to select when you are using it. This is available when bulk updating paths, tasks and custom fields, with other Bulk Update types coming shortly.
Pivot Click-throughs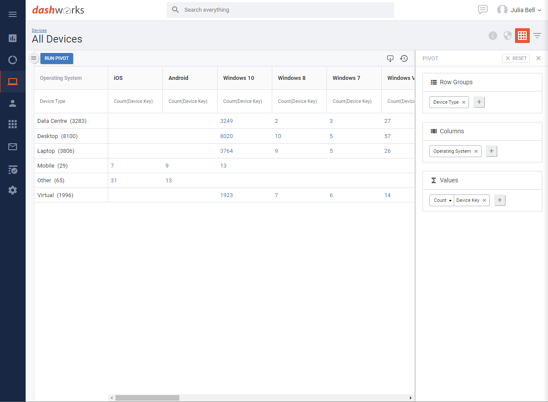 Reporting on Evergreen data is really flexible, with an extensive list of filters and columns to choose from, along with ability to aggregate any of these into a pivot table. The missing piece of the jigsaw was to link an aggregate number in a pivot to the data behind it, as you can do in the (much more restricted) reports in the legacy interface today. This functionality is now here, meaning that the combination of Dashboards, pivots and lists give you your data in a connected, highly customizable way. An example of how to use this, is to create a pivot that counts devices, with Device Type on the row groups and Operating System on the columns. If you click on the number in the Windows 10 column and Laptop row, you will be taken to full list of all your Windows 10 laptops, where you can add additional columns and filters.
Device Filters on User Lists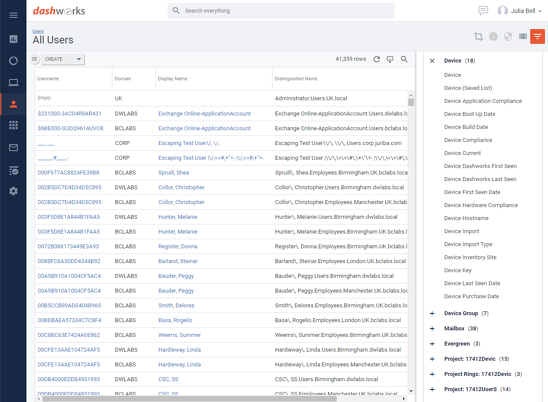 A new category of filters on the users list enables filtering of users based on the properties of the devices they own. For example you can create a list of users who own a device in a particular hardware inventory site or are Red for compliance. In this category is also the Device (Saved List) filter which allows you to filter users down to those who own a device in any device saved list, giving you access to the full set of filters on the Devices list, not just those available in the Devices category on the Users List.
What's Improved
DAS-18802 DAS-20006 Details: Update Evergreen Bucket, Criticality, Rationalization, In Catalog and Hide From End Users tracked in audit log
DAS-20257 Details: Remove owner for app, device and mailbox
DAS-20906 Devices/Users Lists: clickthrough to association lists from App & User Count columns
DAS-20810 Dashboards: Remove unnecessary data refreshes to improve performance
DAS-20962 New email placeholders for Serial Number, Manufacturer and Model
What's Changed
DAS-20889 Bulk Update/Automations: Relative updates for 0 days or hours will no longer require a before or after selection
What's Been Fixed
DAS-20402 Email placeholder values now None where an object has no category and <Placeholder Not Found> for not inappropriate use
DAS-20989 Lists: The 550 error message is displayed after applying "Group Name" or "Mailbox Display Name" filters with "Applications" word
DAS-20948 Dashboards: Some clickthroughs on card widgets don't work
DAS-20915 Mailbox List: Mailbox GUID column displays all values as 00000000-0000-0000-0000-000000000000 when using Mailbox GUID filter
DAS-20971 Pivots: Saved pivot does not apply archive setting when run after creation
DAS-20847 Pivots: The 500 error message is displayed after trying to run pivot with Owner In Scope on row groups
DAS-20929 Legacy: Project object Audit History shows Evergreen object audits messages.
DAS-21075 Legacy: Date pickers disappear after selecting another project on the Email Notification Report
DAS-20195 Legacy: "No Device found" message is displayed if the request response time takes more than 30 seconds
DAS-20961 Automation: Days before now field is empty by default if Update Date value was changed from No changes to Update relative to now
DAS-20953 Bulk Update/Automations: Update task value relative to another task should support group task types
DAS-21043 Automations: Date Column isn't shown after running an automation for some tasks and then clicking the object link
DAS-21094 Automations: There is no Action name validation after clicking "SAVE & CREATE ANOTHER" or "SAVE" button
DAS-21238 Automations: 2 validation messages are displayed after changing the automation scope from a broken list to a list which has a Me or My Team filter
Known Issues
DAS-16401 Details: Move Capacity Unit does not allow you to move associated objects
DAS-21131 Details: Move Ring does not allow you to move associated objects
DAS-21300 Dashboards: Widget that was moved gets returned to the original place after edit
DAS-21049 Automations: Edit Action - The text is copied without spaces when copy-pasting (Ctrl + C) from Automation Actions grid
DAS-21167 Automations: Issue when an automation is opened in two tabs and user tries to DELETE and EDIT the same automation
DAS-21411 Dashboards: Error is displayed after clicking through on a widget with an empty value for App Count Column