Dashworks Release Notes - Wormhole
Executive Summary
Application, device and mailbox owners in a project can now be updated in the Evergreen UI, a key step as we continue to enrich the interactive functionality on the Evergreen side. Updates to rings, buckets and capacity units can now be used in automation actions, making this important bulk update available in automated workflows. Lastly, user lists can now filtered by properties of mailboxes the user is associated to.
Watch the Release Notes Video here (12 mins).
Highlights
Update Owners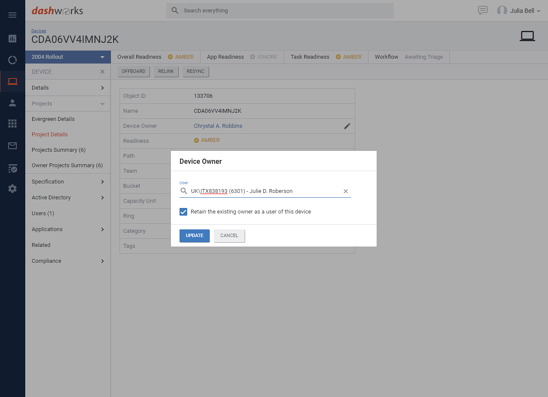 In the Evergreen UI, the owner of a device, application and mailbox can now be updated in the Project Details page within the Object Details. The owner of a device or mailbox is normally the person who is the primary user of that device or mailbox. The owner of an application is the person who has responsibilities in an organisation for that application. They may approve new users, manage testing and sign off on new versions. Within the scope of a project you may receive more reliable information about the owner of a device, application or mailbox than the original data source. In this case you plug this information directly into Dashworks, without leaving the new Evergreen UI.
Automate the Update of Rings, Buckets & Capacity Units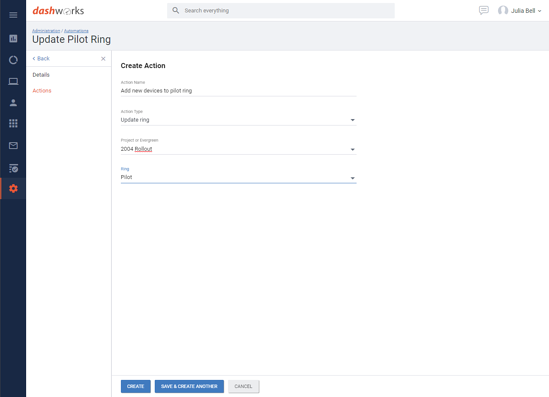 Bulk update of rings, buckets and capacity units has been available in the Evergreen UI for some time, however it was a manual one time process. Now this functionality is available as a background task via the Automations functionality. This allows you to set up criteria, via a dynamic list, to add newly seen objects to the correct ring, bucket or capacity unit in the background, without any manual intervention.
Mailbox Filters on User Lists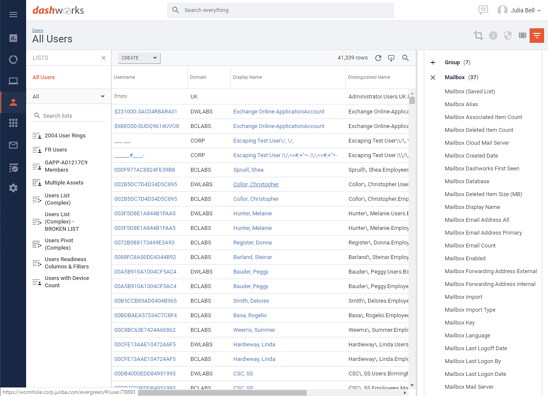 There are 37 new filters on the User List under the Mailbox category. These allow you to filter the list of users based on a property of a mailbox they own (or don't own). For example you can see all the users who own a Mailbox over a certain size; or alternatively all users who do not own a mailbox on Exchange 2016.
What's Improved
Details
DAS-19288 Application Details > Project Details: Resync Application attributes
DAS-19704 Details: Pop-up modal to choose project
DAS-20010 Object Details > Evergreen Details: Add Team
DAS-20802 User Details > Applications > Project Owned: Add Criticality and Hide From End Users columns for current and target
Automations and Bulk Update
DAS-18949 Automations & Bulk Update: Update & Update Value fields combined
DAS-19781 Automations & Bulk Update: Combine Units and Before or After fields
DAS-20424 Automations: Clearer feedback when scope list is being validated
DAS-20328 Automations: Scope column clickable
Dashboards
DAS-20202 Dashboards: 'Create dashboard' should be enabled even if Edit mode is enabled
DAS-20143 Dashboards: Color schemes now have names to support screen readers
Lists
DAS-17433 App/User/Mailbox List: Project Name Column & Filter
DAS-12334 Lists: Column pinning saved as part of the list
What's Been Fixed
DAS-19343 User Details > Applications > Project Owned: "Empty" should be displayed in the filter and the cell should be blank for Target App Readiness Criticality & In Catalog columns when there is no target application
DAS-20274 Automations: Invalid data for custom field column in log
DAS-20278 Automations & Bulk Update: Owner dropdown isn't displayed after selecting team with no users
DAS-20930 Bulk Update: Audit record created for Update Evergreen Bucket, even when user does not have correct permissions
DAS-20691 Legacy: Computer Dashboard does not display devices with Request Types containing '>' when using filter
DAS-20618 Evergreen. The "Update" button is not enabled after changing only the Tooltip or the Ready checkbox
DAS-20813 Applications: No results returned when adding "Evergreen Target App" and "In Catalog"/"Hide From End Users" columns to the list
DAS-20722 Lists: You cannot add any column after switching to a list from a pivot
DAS-20597 Lists: Newly duplicated list is displayed in Edit mode
DAS-20862 Senior Dashboards error on Export & Bulk update: No connection could be made because the target machine actively refused it
DAS-20416 Lists: Task filter for team makes no distinction between My Team as a relative value and a team called My Team
Known Issues
DAS-20953 Bulk Update/Actions: Update task value: Relative task DDL should support Group Type Tasks
DAS-20915 Mailboxes: Mailbox GUID column displays all values as 00000000-0000-0000-0000-000000000000 when also using Mailbox GUID filter
DAS-16401 Evergreen Details page allows to move Capacity Unit only for the main Device, User or mailbox (with no associated objects)
DAS-21131 Evergreen Details page allows to move Ring only for the main Device, User or mailbox (with no associated objects)