Dashworks Release Notes - Void
Executive Summary
Application owner emails open up the channels of communications with your lines of business to verify information in your application catalog. These emails can be sent in the same way as emails to device or mailbox owners to give instructions or ask for feedback. The rich functionality of relative date task updates has the new addition of updates relative to other task values allowing you to keep interlinked information fresh. Bulk updates have also had some of the fields condensed to reduce the number of clicks necessary. Device and User Applications can now have relationships defined that include where apps are not in the current or target state, important when validating information and looking for gaps.
Watch the Release Notes Video here (12 mins).
Highlights
Application Owner Emails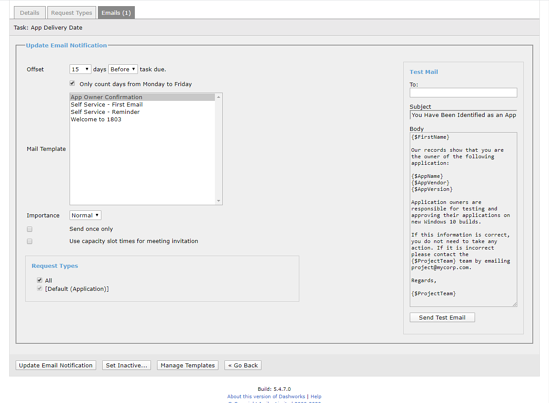 It is now possible to send emails to application owners within a project. This is scheduled through application date tasks and can be offset (+/-) the task date. Some examples of how these emails can be used:
Ask application owners to get in touch if they are no longer the owner
Give application owners information on how to test their application for new builds
Bulk Update and Automations: Relative to Another Task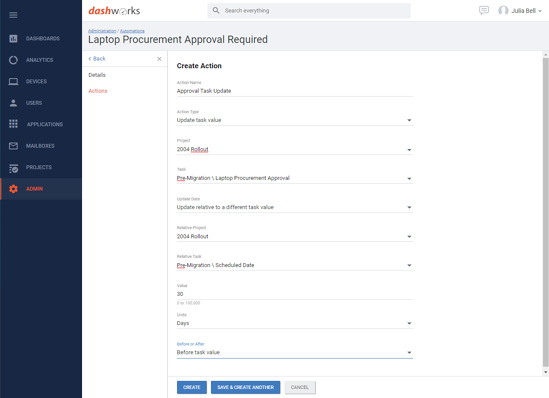 Date task values can be updated to the same value as another task, with or without an offset. This can be used to set date tasks for self service email reminders, based on a separate task for the original self service email. Another use case is to set the values of date tasks that are relative to the scheduled date of a deployment. Naturally the same functionality has been made available in Automations.
Negative Associations on Application Lists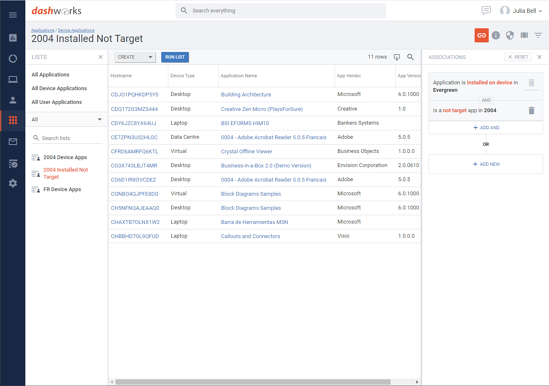 What's Improved
DAS-17972 User List: App count (owned) filter and column
DAS-19808 All User Applications: User Columns & Filters
DAS-18792 All User Applications: User Custom Field Columns & Filters
DAS-19810 All User Applications: Application Custom Field Columns and filters
DAS-20042 All device applications \ All User applications: "Project or Evergreen" should have search options
DAS-19850 User friendly error message if SQL server is not available.
DAS-19737 Evergreen Project Scope Changes \Details - show message in case private lists are used in scope of the project - API & UI
DAS-16360 Evergreen Details: Move Evergreen Bucket
DAS-19534 Application Details: Project Incoming Apps
DAS-17144 Evergreen Details: Move Project Ring
DAS-18566 Bulk Update & Automations: Project or Evergreen and Projects fields have been combined
DAS-19276 Bulk Update & Automations: Stage and Task fields have been combined
DAS-19656 Bulk Update & Automations: Before or After and Units fields have been combined
DAS-19274 Bulk Update & Automations: Relative task updates can now take 0 as a value for the offset
What's Changed
DAS-20152 Primary App column has been removed from the database
DAS-20131 Maximum of 5 AND association groups on the User Applications and Device Applications
Known Issues
DAS-20464 Dashboard Details and Permission icons disappear after page reload via browser
DAS-20651 Dashboard Print Layout is not correct
DAS-20365 Automations > Edit Action: Update button is disabled for a moment after clicking anywhere on the page
DAS-20678 500 error message is displayed when user tries to create a table widget with "Evergreen Ring" value in the "Split By" field and aggregate function of severity