Dashworks Release Notes - Universe
Executive Summary
The stacked and clustered charts are a great feature to add richness to your dashboards. It's something we've been asked for many times and I'm really pleased that it has made it into this release. Visualising data in a meaningful way often requires insights across multiple data points, and Dashworks now has this flexibility. In order to add further functionality to application management, new types of associations for the current and target state of a project are now available on Device Applications. User applications, meanwhile, has benefited from new columns and filters: Evergreen bucket, capacity unit and ring. Also adding functionality to application management is the availability of further data points to update in Application Attributes in both Automations and Bulk Update.
Watch the Dashworks release notes video here (12 mins)
Highlights
Dashboards: Stacked Bars and Sections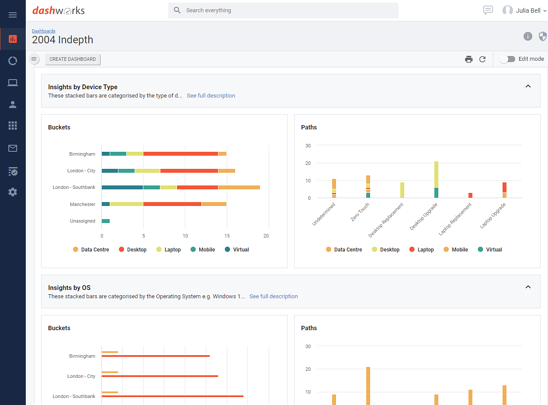 Bar and column widgets on dashboards now have the option to be stacked or clustered. This enables an additional dimension to be added to the data you are summarising, within the same chart. For example you can have a bar chart that is split by readiness, and then stacked by device type. Dashboard sections can now optionally have titles and descriptions allowing you to add more explanation to your data visualisations where needed. They can also be collapsed and expanded making it easier to navigate around larger dashboards, and you can even choose to have some sections collapsed on first load to highlight the most important charts to your users.
Application Association List Enhancements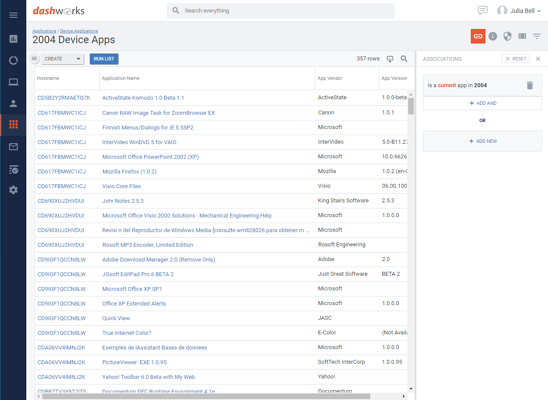 All Device Applications now has options to show associations not only for Evergreen data, but also in your project. You can see associations between devices and applications for either the current or target state and even combine these with existing Evergreen associations. For example, you can see a list of device to application associations for the target state of a project which have never been installed on the device. Additionally All Device Applications has a new Device Evergreen category and All User Applications has a new User Evergreen category for filters and columns. These new categories contain columns and filters for Evergreen bucket, capacity unit and ring.
Automation & Bulk Update: Application Attributes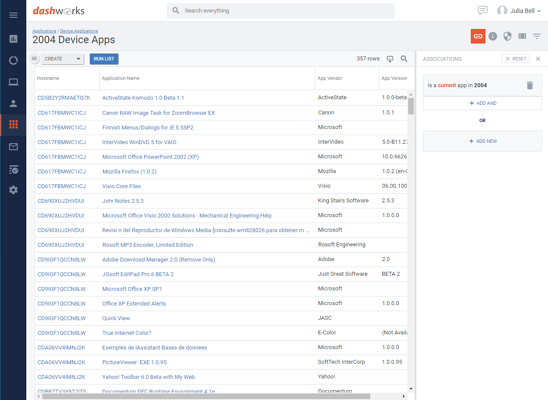 Bulk update of application attributes has been expanded to include Criticality and Hide From End Users for projects and In Catalog, Criticality, Rationalization and Hide From End Users for Evergreen. As expected, these additional fields have also been added to the Update Application Attributes action type in automations. This gives you the option to maintain this key information about your application catalog in bulk, both via the UI and with automated workflows.
What's Improved
DAS-19027 All Device Applications: Sticky Compliance column & filter
DAS-19602 Onboarding: Application attribute values (Rationalisation, Hide from End Users, Criticality) will be taken from Evergreen
DAS-19630 Permissions Context Panel on Dashboards & Lists
DAS-14449 Lists: Add UI feedback and timeout message on export
DAS-16549 Lists: Visual indicator for filter referring to broken list
DAS-18880 Lists: Me and My Team values added for task owner filter
DAS-14231 Pivots: 'Copy' and 'Copy with headers' right click options
DAS-19748 Applications List: Automation Actions category on columns
DAS-19721 Applications List: Project Criticality column and filter
DAS-18329 Admin > Scope Details: Add spinner whilst changes are being saved
DAS-18391 Performance improvements for onboarding and resyncing
DAS-14834 Transform setting to omit AD group processing
DAS-17485 Automations and Bulk Update: Add Unassigned value to Owner in Update Task Value
DAS-18886 Admin > Automations: Add Update Type columns to Actions
DAS-17502 Admin > Automation Log: Columns for fields affected by automations to be displayed after clicking Objects link in Automation Log
DAS-19352 Mailboxes Details: Add Recipient Type
DAS-19365 User Details > Mailboxes: Add Recipient Type
DAS-19974 Application Details: Projects > Evergreen Incoming Apps
DAS-19599 Application Details: Project Criticality
DAS-18227 Project Details: Change Bucket
What's Changed
DAS-19720 Primary/core application application field has been retired in favour of Criticality
Known Issues
DAS-20168 Automations: First automation run isn't finished if the same automation is run a second time
DAS-20159 Admin: The Applications list page is opened after clicking the number of mailboxes from the Project Rings page
DAS-20116 Automations: Action Finish/Automation Finish log messages are missing if 4 automations were running at the same time
DAS-20027 Dashboards: Page time out is happened after drag and drop widgets based on severity several times
DAS-20233 Dashworks Delete Project Data job is failing on Prune Automation Logs step