Dashworks Release Notes - Terminator
Executive Summary
Enhancements to application management capabilities continue in Dashworks 5.4.5. All User Applications is a breakthrough in managing user to application associations in bulk, and the counterpart to All Device Applications. Both of these features continue to be developed, with new association types, filters and columns in the pipeline. The focus for automations and bulk update in this release has also been on applications with updates to Project Rationalisation and Compliance now available. Additional pieces of the Application Owner story are now in place with owners now being onboarded into projects. User permissions have now been applied to the Evergreen interface with the same rigour as they have always had in the legacy interface, giving administrators the confidence to open up access to the Evergreen interface whilst keeping control over the information can be edited.
Watch the Dashworks release notes video here (10 mins)
Highlights
All User Applications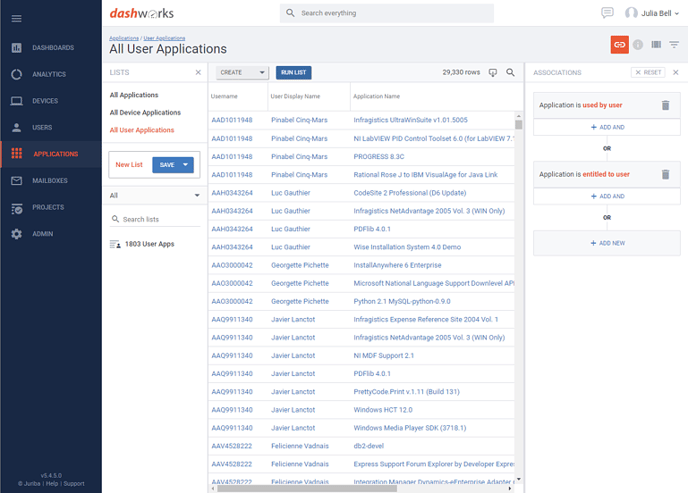 Improvements to the reporting capabilities for applications continue, and All User Applications now shows relationships between Evergreen users and their applications in bulk. This works in a similar way to the existing All Device Applications functionality, showing relationships between users and applications in a list. This detailed view facilitates the in depth application analysis across multiple users that is necessary when planning change for specific teams or locations. Additional filters, columns and association types are planned for both All Device Applications and All User Applications over the coming releases, however the "saved list" filters means that all the existing filters on the user, device and application lists can be accessed in these association lists.
All Device Applications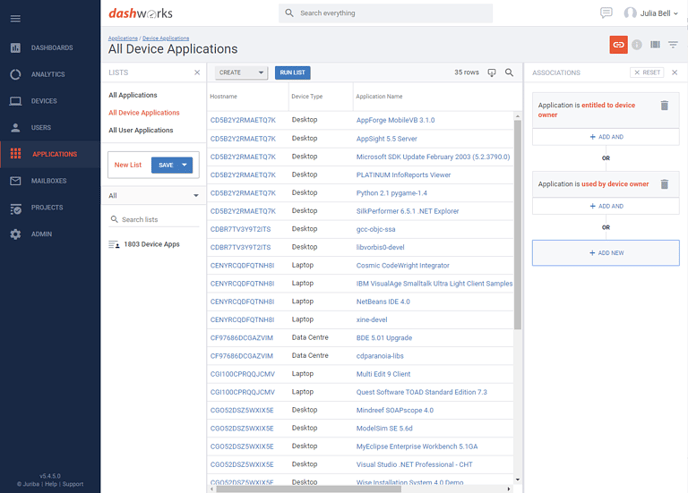 There are 2 new association types on All Device Applications: Entitled to Device Owner and Used by Device Owner. Previously, reporting on the relationships between devices and applications was straightforward as long as your data held direct app to device relationships, now you can perform this same analysis even if your data only contains application to user relationships (DAS-18092). This ensures that analysis of your application estate is unhindered by the type of data you have. There are also new columns and filters available for: Device Custom Fields, Application Custom Fields, Device Location.
Bulk Update & Automation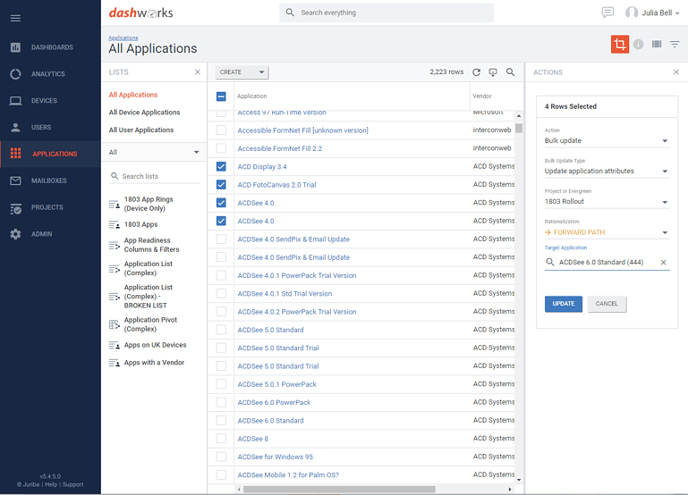 There are 2 new ways in which you can bulk update applications: Project Rationalisation and Evergreen Compliance. Rationalisation is the categorisation of applications into Keep, Retire, Forward Path or Uncategorised. If Forward Path is selected then a target app to forward path to is also selected. Compliance uses the red/amber/green traffic light system and indicates whether an app has been approved for use in the organisation or presents a risk. Both of these were previously available to bulk update in the legacy interface, however now it is possible to leverage the powerful filtering capabilities of the Evergreen interface to choose which apps to bulk update.
Application Owners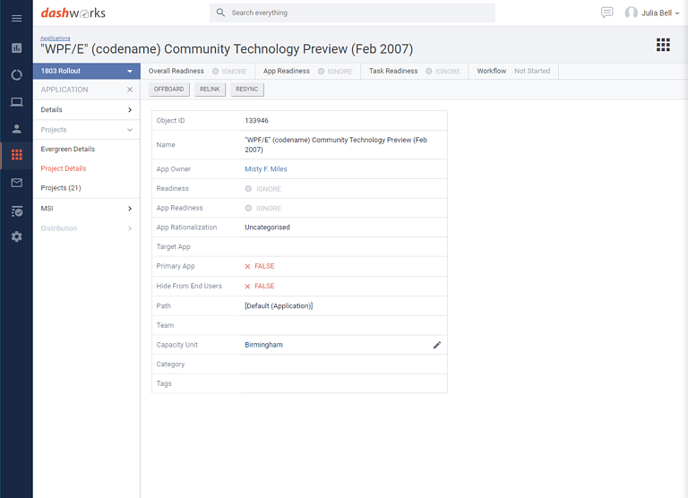 Evergreen application owners are now onboarded into projects, and can be synchronised using the Resync button along with the application name. Application owners will be shown on the Scope Changes page when onboarding into a project, and there are new options in Scope Details to determine how and if application owners are onboarded. Readiness of an application and its owner do not cross-impact. You can also specify which applications a user owns in a project using the new Applications > Project Owned page on User Details. Properties of the Project Application Owner are also available as columns and filters on the Applications List. The next step with application owners is to introduce the ability to email them using application date tasks.
Object Details Security
Both role and object security is now enforced on the Details pages for all functions that can materially change your data, such as relinking or updating a capacity unit. Role security affects the types of function that are available to a user, for example only members of the Project User Object Editor rold can offboard users from a project. Object security affects the specific objects that a user has access to. In order to make changes to an object, for example to their Capacity Unit, that object must be in a bucket that is owned by a team that the current user is a member of. Users with the Project Administrator role can update any object in a project, regardless of which teams they are in.
What's Improved
DAS-18883 Add option to Create Static lists when saving a dynamic list
DAS-18849 App Details > Evergreen > Hide from End User (with update)
DAS-18430 Project Details > Update Capacity Unit
DAS-17413 Device/App/User/Mailbox: Department filters need Empty option
DAS-17431 Automation Actions category on Devices, Mailbox and Users Lists (columns)
DAS-18731 User List: Device Group Filter (User List - API and UI)
DAS-18861 Mailbox List: Add Project Owner column and filters
DAS-18961 Application List: Add columns and filters for Target Application and Rationalization
DAS-19362 Legacy Mailbox Details: Add 'Recipient type' row on Details tab for mailbox Object Details
DAS-18371 Application list: Add Device advanced filter

DAS-17783 Application list: Add additional filters to Device category
What's Changed
DAS-19603 Device & User List: Change Group Domain to a select filter
DAS-19647 Admin: Show the 'Processing Order' column by default on the Automations grid
What's Been Fixed
DAS-18232 Evergreen Dashboards: card widgets using severity created historically will not have Layout field populated
DAS-18860 User Details: Retired applications do not appear in "Project Owned"
DAS-19217 Legacy: Error page is displayed after sorting by any column title on the "Review and select objects to onboard" page
DAS-19260 Upgrade: Failed update the assemblies if .Net 4.7
DAS-19287 Teams: Delete button does not work when trying to delete all Teams including the default Team
DAS-19381 Сan't delete Readiness via the cog menu
Known Issues
DAS-19836 Item Details: '500 Internal Server Error' appears when trying to navigate to Project offboarded from which offboard was done