Dashworks Release Notes - Radiant
Executive Summary
There are 2 great new features in Dashworks 5.4.3 to assist you with application management. Device Applications enables you to view and report on relationships between multiple devices and their applications. Additionally, Application Owners allows you to import and view the relationship between applications and the users that own them in the organization. For both of these new features, this is the first phase release with the functionality being built upon in future versions of Dashworks. Custom fields can now be bulk updated through the Evergreen interface, or as a background workflow via the introduction of a new Update Custom Fields automation action type. Lastly, the latest piece functionality to be introduced to Evergreen details is Resync, with many new improvements over the same functionality in the legacy interface.
Release Notes Video
Highlights
All Device Applications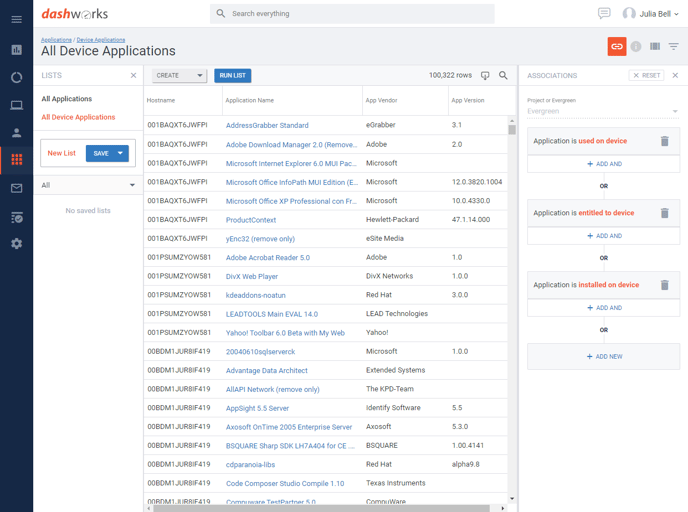 A key part of any Evergreen project is understanding the relationships your applications have with the devices in your estate. The introduction of Device Applications to the Applications list brings this important view to Dashworks Evergreen. Under Applications is a new item called All Device Applications, from here you can view the association between all the applications and devices in your estate. The list can be filtered on the association type: used, entitled or installed; and also any of the existing filters for devices or applications, using the Saved List filters. Over the coming releases we will be releasing additional columns, filters and project association types for Device Applications; and also the equivalent User Application list.
Custom Fields: Bulk Update & Automations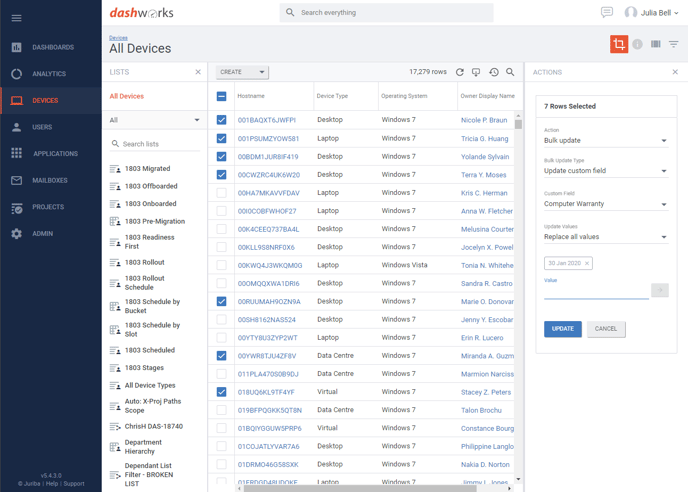 Custom fields for all object types can now be bulk updated. Because custom fields can support multiple values, there are several options for how they can be bulk updated, in terms of replacing, removing or adding values. Simultaneously this functionality will be introduced into automations so that custom field updates can be included in automated background workflows.
Application Owners
The first wave of Application Owner functionality is released in Dashworks 5.4.3. Application owner information can now be imported with a CSV file, and viewed in Dashworks Evergreen details and lists. Future releases will see application owners being onboarded into projects and receiving automated emails.
Resync on Evergreen Details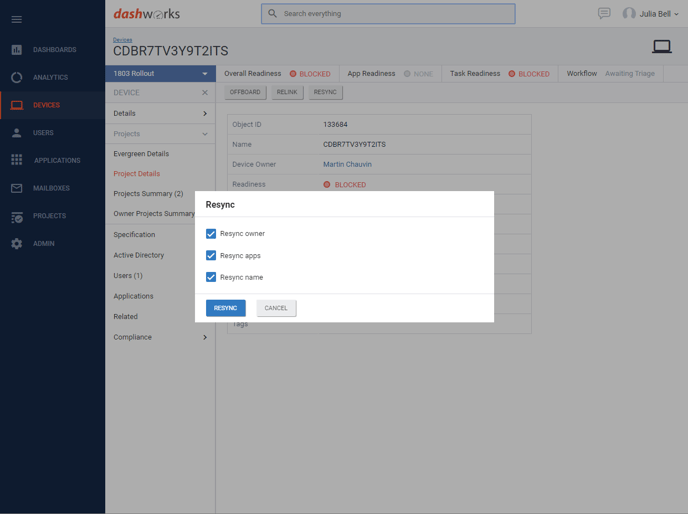 Resyncing user or device applications is functionality from the legacy interface that has been ported over to Dashworks Evergreen. In addition to resyncing applications, the owner and name of an object can also be resynchronised, including for applications themselves. The relink feature now also has additional options to resync at the same time.
What's Improved
DAS-17178 Evergreen: Custom Fields - refresh data
DAS-17720 Lists: Onboarded Filter & Column
DAS-18100 Lists: Introduce Not Empty operator on multiple filters
DAS-18132 Lists: Introduce Empty value on multiple filters
DAS-18333 Add check for Application Development \ Application Initialization to MSI and Pre-Reqs Checker
DAS-17821 Enable Always Running Application Pool and PreLoadEnabled Website in the MSI Install
DAS-17286 Automations: Add created by and created date to the automations grid as hidden columns
What's Changed
DAS-18273 Lists: Page title should reflect to the selected list
DAS-18131 Column SCCM.dbo.Logical_Disk_DATA.size00 altered to BigInt
What's Been Fixed
DAS-18367 Lists: Remove Empty value from Saved List filters
DAS-18387 Lists: Change validation for relative date filters to make 0 values for available
DAS-17719 In Scope Filters & Columns are incorrect
DAS-18066 Dashboards: Click through on Empty values in widgets lands on a broken filter
DAS-18126 Favicon icon disappears from time to time while navigating between Evergreen and Legacy UI
DAS-18135 Legacy: 'Duration' filter for 'Used On' in user's applications doesn't work
DAS-18137 Device & Mailbox Lists: Postal Code and State/County data is the wrong way around
DAS-18158 Evergreen Admin: Issues with capacity slots timeline view
DAS-18240 Duplicate application entitlements on Details > Evergreen Summary page
DAS-18286 Mailbox delegate not linked to mailbox when onboarding
Known Issues
DAS-18694 Evergreen: Some objects remain in a status of 'Not Onboarded' in Evergreen for several minutes, but are already showing as Onboarded in Legacy UI