Dashworks Release Notes - Orbit
Executive Summary
Dashworks 5.4.0 introduces a game-changing feature: Automations. Using this feature workflows can be defined and then run in the background, without the need for any intervention by a project manager. Once set up, automations can remove many of the manual tasks involved in managing a project, and are configured through a simple interface. This new feature is extremely powerful, and will be extended over the coming releases. Additionally in the 5.4.0 release, are device filters on the applications list and the ability to report on devices that exist in a project, but have since dropped out of the live data feeds..
Watch the 5.4.0 & 5.4.1 updates video here (5 minutes)
Highlights
Automations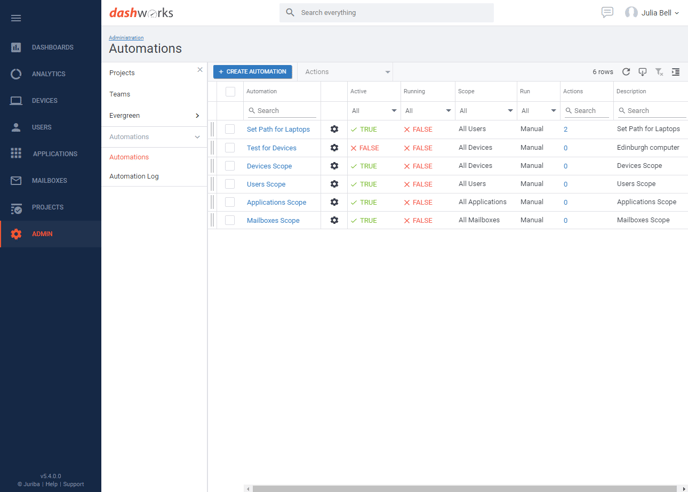 Automations are an evolution of the bulk update feature. Bulk updates, though invaluable as a feature, are limited by being manual, one-time operations. In contrast, automations are set up once and then repeated on a schedule or following a transform. For example, automations configured to run on a daily schedule may be set up to set the path of newly onboarded laptops to a Laptop Refresh path (formerly request type) and desktops to a Desktop Refresh path. When selecting which objects an automation will operate on, the full set of filters on Evergreen lists are available to use. An automation can contain multiple, sequential actions. In this initial release, there is a single action type that can be used: Update Path; the next action to be released will be Update Task Value in 5.4.2, with Update Rings, Buckets, Capacity Units and more coming in the following releases. The full automation framework is released in 5.4.0 including logging, error control, validation and compatibility with all object types.
Archived Devices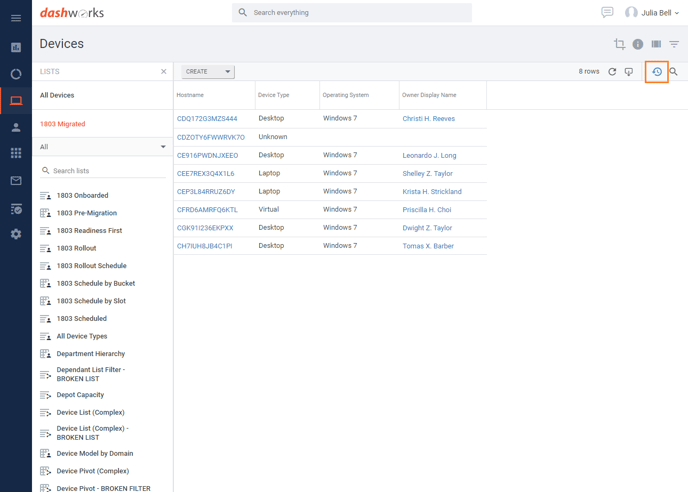 Previously, device lists were based only on Evergreen data, i.e. devices currently live in the hardware inventory data. This could present an issue with reporting project related information on devices that were replaced as part of their migration or upgrade. Now there is a toggle on device lists allowing you to choose whether or not to include devices in your list that were seen historically, but have since dropped out of the data import (DAS-15426). Full reporting capabilities for project related information is available for these archived devices.
Apps List: Advance Device Filters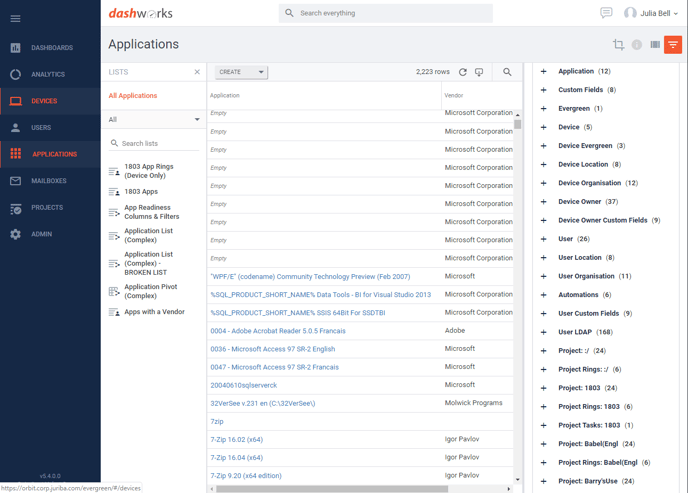 There are now a wealth of new filters on the applications list relating to devices. These allow you to report on applications that are associated (or not associated) to either specific devices, or devices with a particular property, or devices in another saved list. The new filter categories are: Device, Device Organisation, Device Location, Device Evergreen, Device Owner and Device Owner Custom Fields (DAS-15194/DAS-14581). Device Hardware, Device Operating System, and Device Custom Fields filters are expected to be released in 5.4.1 (DAS-15082).
What's Improved
DAS-16178 Devices List: Project Owner Username and Project Owner Display Name columns and filters
DAS-16830 More counters on Evergreen Details navigation menu
What's Changed
DAS-16910 Rename Not Applicable Compliance/Compatibility to None
DAS-10552 Modernise Dashworks licensing
What's Been Fixed
DAS-16363 Translate colour template values
Known Issues
DAS-17537 List name updated in context panel is not immediately displayed in the sub-menu
DAS-17456 Columns do not autosize on initial load on datagrids in IE
Subscribe here to receive the latest Dashworks Release Notes via email.