Dashworks Release Notes - Light Year
Executive Summary
The Evergreen Details pages for users, devices, mailboxes, applications and groups have a new look and feel. This new design will support the introduction of an increasing amount of functionality planned for these pages over subsequent releases. The continued development of Evergreen Dashboards has brought the introduction a several small but useful features. The Suggested category in Evergreen Lists has brought a consistent experience across columns, filters and pivots, helping you to find the fields you are most likely to want. And finally, there are new filters and columns to support the use of rings in a project.
Highlights
Evergreen Details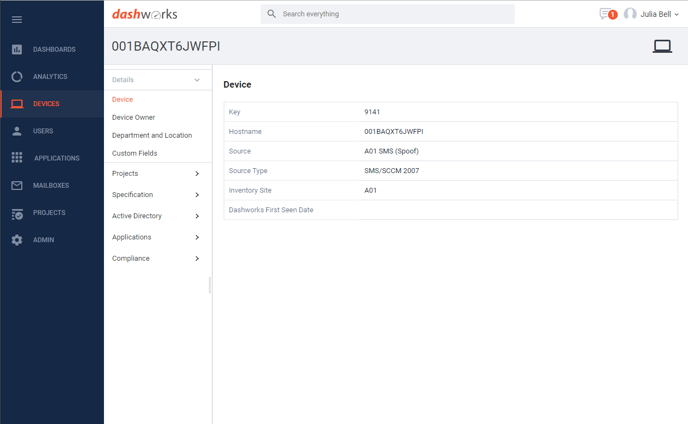 Evergreen grows with each new release, with the ultimate goal being that all existing functionality in Dashworks will be available through this flexible and modern interface. The Analysis and Project Details pages in the legacy interface will be combined into a single Evergreen Details page for each object in Dashworks. Collating this volume of information in one place required a rethink of the structure of the Evergreen Details page. This new design is implemented in this release and will grow to encompass additional new pages in each release.
Evergreen Dashboards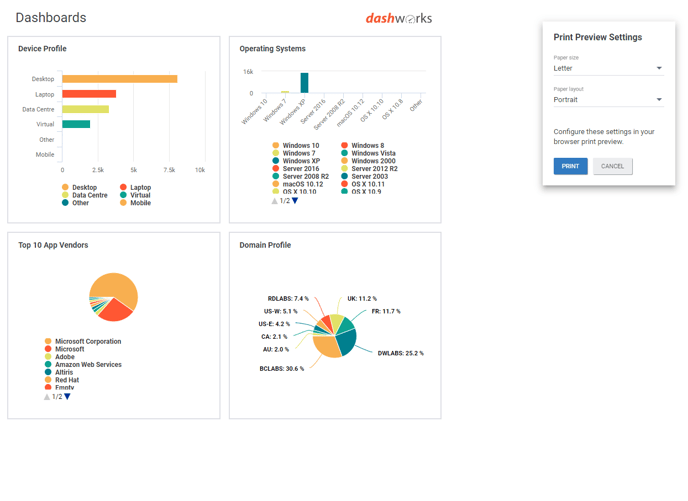 Evergreen Dashboards are now easily printable. There are options for A4 and Letter paper sizes with Portrait or Landscape configurations for each (DAS-15200). The introduction of an option for data labels for pie, donut and half donut widgets supports black and white printing, making data points identifiable without using colour. Data labels are also helpful for users with accessibility needs who use high contrast mode. Data labels are available in addition to the existing Legend option (DAS-15662).
Card widgets will now show icons and colours where the data supports this, e.g. for readiness and compliance fields (DAS-15355). This is especially useful with an upcoming feature which allows you to aggregate data on cards by readiness and compliance. When values on cards do not show readiness or compliance, you have the option of displaying these in one of 12 colours, the same colours available to readinesses (DAS-15134).
Evergreen Dashboards have an important dependency on Evergreen Lists. Both can be independently and differently permissioned. To assist with the management of these relationships, when you share a Dashboard any dependent lists which are not shared are identified and you are given the option to change these permissions at the same time (DAS-14841).
What's Improved
DAS-15776 "Suggested" category for columns and filters
DAS-15471 Evergreen List Date Filter Operator: Add tooltip with explanation for UPDATE button when the button is disabled
DAS-14561 Give the option to use capacity slot information for meeting invitations
DAS-14264 Evergreen Lists, Pivots and Dashboard: Add Teams to permissions on details panel
DAS-13753 Status column presents conditionally on legacy Group Dashboards
DAS-13743 Multi select filters in senior should have white and not grey background to avoid looking like they are disabled
DAS-15210 Evergreen User & Device List: Project ring columns & filters for secondary object types
What's Changed
DAS-15686 Evergreen Admin > Buckets: Clickthrough to lists for Devices, Users and Mailboxes
DAS-16177 Export icon on datagrids updated
What's Been Fixed
DAS-15910 Evergreen: 'Empty' word must be displayed when a user applies Group By to a column which is empty in a datagrid
Known Issues
DAS-16587 Using the filters to reduce the number of visible tasks on the Group Task Dashboard results in a full page error, all group tasks can still be viewed and edited from the unfiltered list
Subscribe here to receive the latest Dashworks Release Notes via email.