Dashworks Release Notes - Kepler
Executive Summary
The shift of many organisations to an Evergreen IT model has brought an onslaught of iterative change within the desktop environment. There are now frequent and concurrent projects being run, all with very different requirements. Dashworks now has readiness at the project level giving PMs the finer control they need to meet these requirements project by project, without cross impact. Evergreen dashboards continue to be improved, and this release brings a wealth of new functionality in this area. The most noteworthy of these is drilldowns, making a rich layer of detail available to each chart.
Highlights
Project Readiness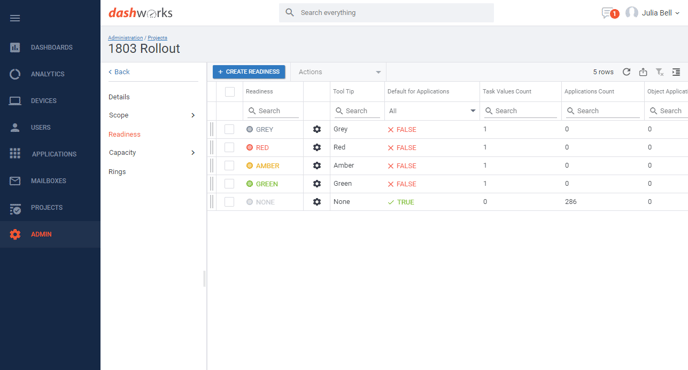 Previously, although the red/amber/green readinesses in Dashworks were configurable these were defined once in the system for all projects to use. Now you can define completely different sets of readinesses for use in different projects. You can add an unlimited number of different readinesses to each of projects, choosing from 12 different colour templates.
Dashboard Drilldowns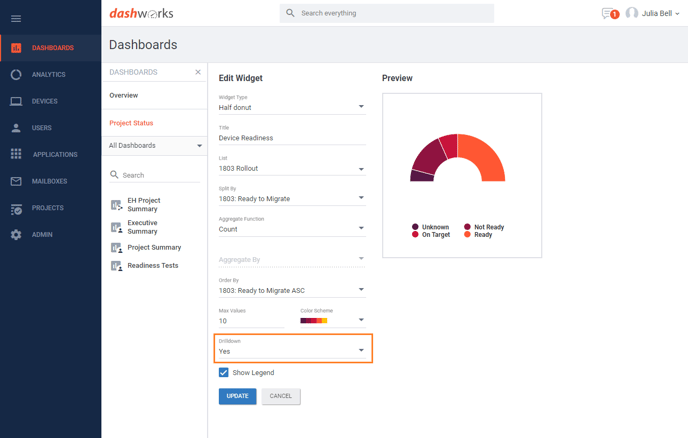 Dashboard widgets can now be linked to their underlying data. Setting Drilldown to Yes for a widget means that data points in the chart, table or card can be clicked on to get more information. The user is then routed through to an Evergreen list of objects that were aggregated to make that number or chart segment. An example of this would be a bar chart that showed a count of devices by device type, e.g. 480 virtual devices, 1003 laptops, 394 desktops. Clicking on the bar for the virtual devices would show you a detailed list of 480 virtual devices in your environment.
What's Improved
DAS-13863 Pivots: status sort order
DAS-13934 Evergreen Dashboards: list field on widgets shows permissions icons
DAS-14196 Evergreen Bulk Update: add Evergreen or Project selection to bulk update
DAS-14781 More descriptive error messages when API becomes unavailable (550 error)
DAS-15411 Add Group By button on all datagrids
DAS-15625 Evergreen Lists: capacity slot filters to have empty and not empty operators
DAS-14246 Pivots: Add selected column names to grid
DAS-14342 Evergreen Dashboards: widgets have a readiness & compliance colour scheme available
DAS-15934 Evergreen Dashboards: widgets for task values are sorted in display order
DAS-15239 Evergreen Lists: add a discard option to the List save dialog
DAS-15315 Evergreen > Admin > Capacity > Slots: Add Tasks column
DAS-15663 Evergreen Dashboards: implement severity sort order on widgets for readiness and compliance fields
What's Changed
DAS-15785 Replace Type Filter Category with Sharing and Favourite
DAS-15437 Count function on Dashboard widgets counts rows and not individual fields
DAS-14653 Add a duplicate button to list details panel
DAS-15243 Dashboard sub menu tool tips
What's Been Fixed
DAS-15796 Directory Scrape: error when AD object does not have a GUID
DAS-15687 Error during ETL caused by duplicate TPM data: Violation of Primary Key constraint PK_DimComputer_LEFT
DAS-15657 Error in self service for long location names
DAS-15586 DSPRC reports false Analysis Services failures if different SQL and AS instance names are used
DAS-15577 On the Teams page in project admin the Group count is incorrect
DAS-15565 DSPRC reports false positive in SQL Server Analysis Services check
DAS-15401 Dashworks installer for web components fails if no Logs folder
DAS-15400 Dashworks installer fails if the path to the database install scripts contains a space
Known Issues
DAS-15966 Application filter on the Users list should show Empty rather than Unknown for applications that have no Application Name value
Subscribe here to receive the latest Dashworks Release Notes via email.