Dashworks Release Notes - Jet
Executive Summary
Significant features for both Dashboards and Pivots come with 5.3.3. Aggregation by readiness or compliance severity for pivots provides an important executive perspective of the data. When combined with all the existing flexibility of pivots, this makes many new views possible. Card and list widgets in dashboards bring a useful scorecard style and as well as additional detail. Lists themselves have many improvements including an additional filter and column of Primary Device, along with a new Between operator for date values. Automated onboarding is a customisation our consultants often get asked for, so I'm now very pleased to bring this to the UI making it easy for end users to set up and support this themselves. Lastly, opening up the Evergreen API for lists enables a new level of integration with powerful third party reporting tools such as PowerBI.
Highlights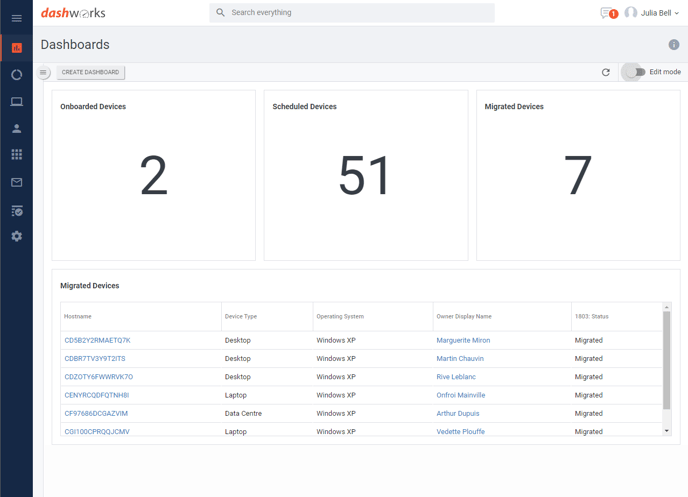 Additional widget types of card (DAS-15077) and list (DAS-14386) are now available on Dashboards. The card widget displays a single value, for example the number of red devices in project. This is useful when you need to highlight a KPI on a dashboard. The list widget can display multiple rows of data from a list, this is useful when you want to add more detailed information to your dashboard.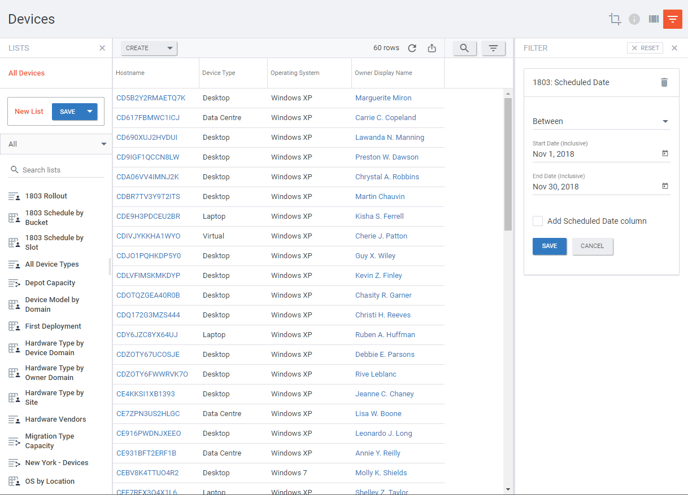 Date ranges can now be specified for date filters using the Between operator (DAS-13831). This is an inclusive range that returns all rows that have a value that is on or after the start date and before or on the end date.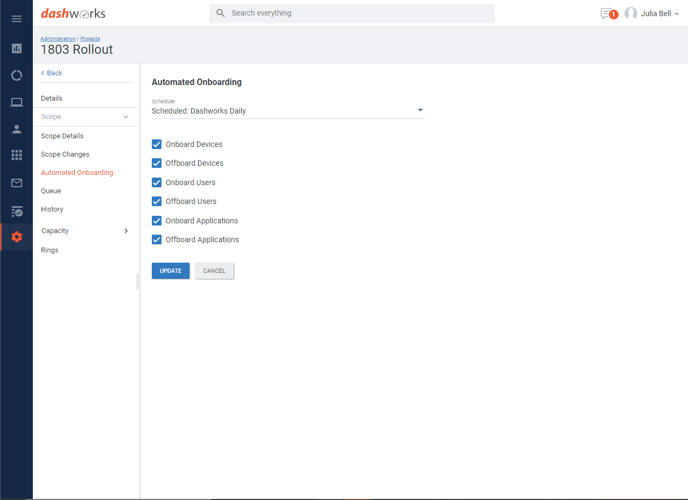 Automated onboarding (DAS-14965) facilitates a hands off approach to including new objects in your Evergreen project. If you are confident that new objects which fall inside the defined scope should be onboarded without the need for vetting them first, this can be done on a scheduled basis. Out of the box schedules can either be daily or tie in with existing scheduled transform runs. Custom schedules are also available via SQL Server agent.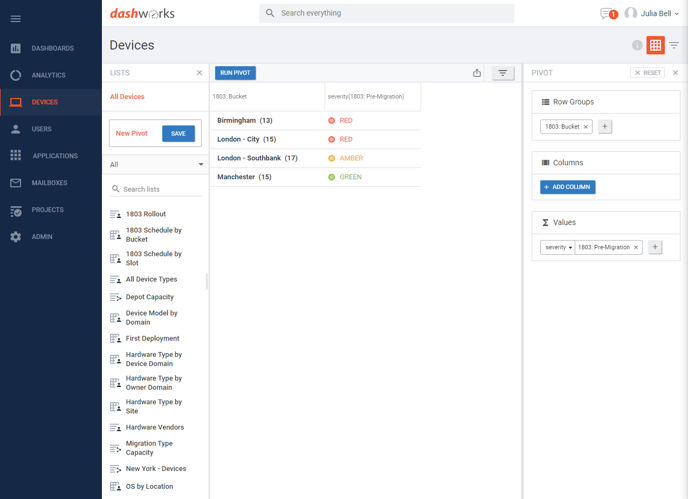 Pivots now have aggregation support for compliance and readiness fields (DAS-13860). This means that you can create a pivoted view and show data aggregated on the highest severity of compliance or readiness. An example would be to create a pivot with project buckets for row groups, no columns and a stage for the value with an aggregate function of severity. Also in pivots there are more specific sort orders for Operating System, Service Pack or Build (DAS-13862) and task value columns (DAS-13864).
What's Improved
DAS-13864 Pivots: Task values sorted in display order
DAS-12960 Evergreen API for lists open to external reporting tools via Forms and WinAuth
DAS-12912 Add Projects to List Details
DAS-13329 Lists used by other lists and projects do not display all information before deletion
DAS-14453 Evergreen Details has facility to update capacity unit
DAS-14560 Change Evergreen filters for User to have the format Domain\Username (Display Name)
DAS-15195 Evergreen Admin > Project > Scope > Queue: Add column Ring to the Queue table
DAS-15201 Evergreen Admin > Project > Scope > History: Add column Ring to the History table
DAS-15363 Evergreen Dashboards: Operating systems and service packs to sort chronologically
DAS-14178 Evergreen Admin > Capacity > Slots: Show stage name when selecting tasks on the Create Capacity Slot page
DAS-14629 Evergreen Users List: Primary Device added to filters and columns
DAS-14751 Capacity Slots summary grid should be ordered Sunday to Saturday if Evergreen profile language is set to English (US)
DAS-14873 Self Service Project Date datepicker to default to first month with capacity
What's Changed
DAS-14503 Create standard icon buttons on all datagrids for export, refresh, group by and reset filters
What's Been Fixed
DAS-15579 Legacy UI: Default project does not take effect on certain pages
DAS-15572 Invite Subject and Body data is not saved for non-default languages
DAS-15472 Legacy UI: German language unable to render any dates in March in IE and updates clear the date value
DAS-15116 Issue with Object App rag when app FPed to app already on object
DAS-14972 Device Count (installed) doesn't respect filters
DAS-15352 Error creating Evergreen Dashboard widget referencing Model column
DAS-15116 Issue with calculated device readiness when app forward pathed to an app already on the device
DAS-14934 Pivots: Export pivot with HTML styled fields
Known Issues
DAS-15535 Dashboard list widget headers do not stick at the top when vertically scrolling in IE
Subscribe here to receive the latest Dashworks Release Notes via email.