Dashworks Release Notes - Interstellar
Executive Summary
Since we don't do a release in December, the release at the end of January is bigger than usual and contains all the items developed in both months. The most significant new feature in 5.3.2 is Evergreen Dashboards, this is a step change for graphical reporting in Dashworks - flexible, configurable and shareable. 5.3.2 also introduces Rings, a way of broadly grouping your project into waves or phases that run across locations and business units, as recommended by Microsoft. Plus there are several more columns and filters for lists.
Highlights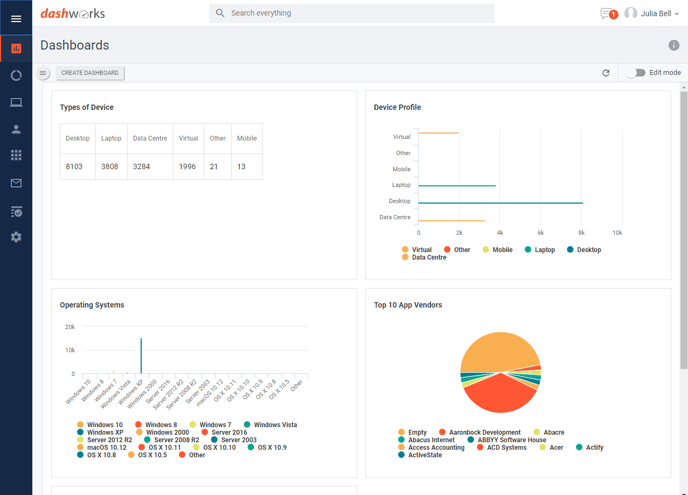 Each user can create their own personalised dashboards, and share these with others. Dashboards are made up of individual widgets, each widget is a representation of data based on a saved list. The data can be displayed as a pie chart, bar chart, column chart, line graph, donut chart, half donut chart or in a table. There is a choice of colour schemes and many other configurable options for each widget. Widgets can be displayed in a choice of layouts on your dashboard. Development of Evergreen Dashboards is ongoing with clickthroughs and card widgets coming in future releases.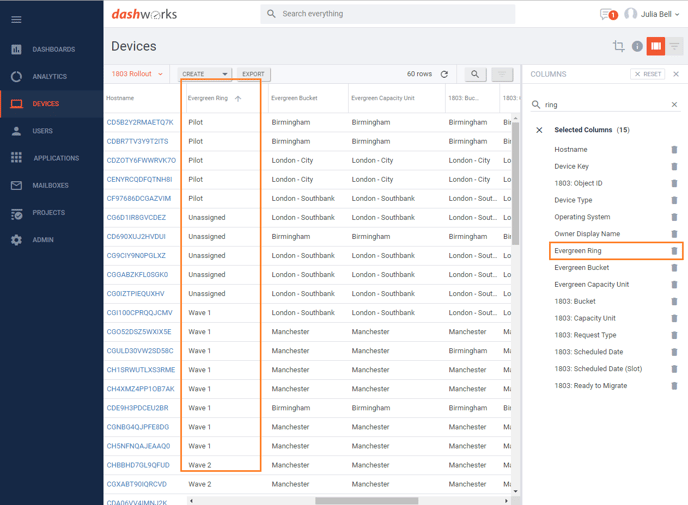 Rings (or deployment rings) are used to define users, devices, mailboxes and applications that are in different phases of your project. Rings can be defined in Evergreen for onward use across multiple projects, or specified for a particular project. A typical project would define a small number of rings in a project for waves of deployment such as:
Engineering team
Pilot users
Early adopters
IT Users
Low risk business users
Medium risk business users
High risk business users
VIP users
Business critical systems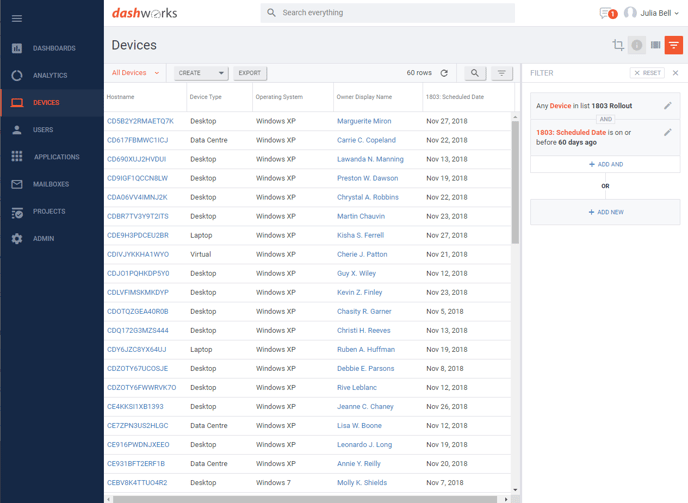 There are quite a few more filters and columns in v5.3.2, here I highlight 2 of the most powerful additions. In List/Not in List filters (DAS-14267) on all list types (for example Devices (Saved List) on the Device List) allow you to combine and exclude results from other saved lists. They are particularly useful if there is a requirement to add further filters to a static list. Relative date filters (DAS-14159), again on all list types, provide extra functionality when filtering on dates to specify values that are relative to the current date and time. This can then be used, for example, to create saved lists that show devices scheduled in the next 7 days without having to edit and re-save filters.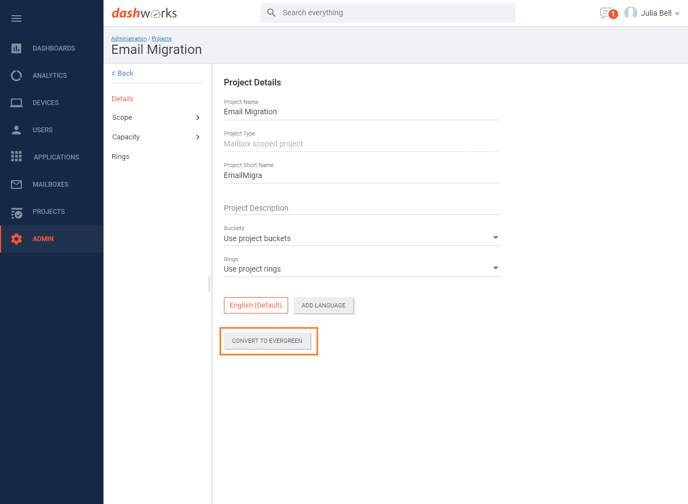 Projects created in Dashworks Evergreen manage onboarding relative to a pre-defined scope, rather than items having to be selected individually. Now legacy projects can be converted to the new Evergreen approach by the click of a button (DAS-14819).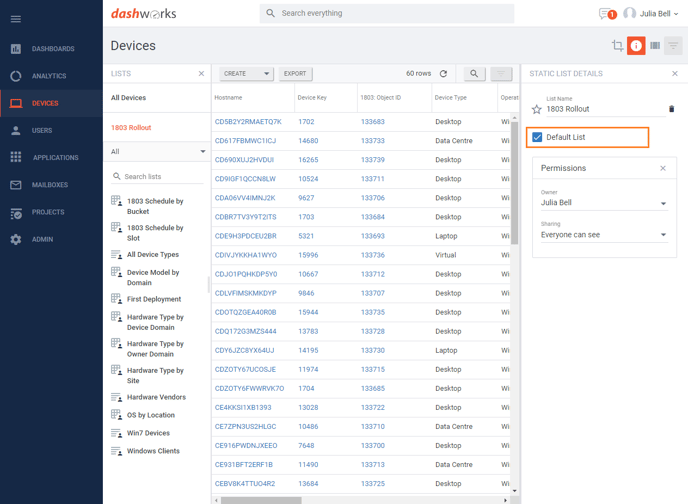 You can now change the list you see by default when you first enter either Devices, Applications, Users or Mailboxes. Any saved list can be chosen as the new default, instead of All Devices, All Users, etc (DAS-12871).
What's Improved
DAS-14865 User List: Parent Distinguished Name Column & Filter
DAS-14478 Remove "(copy)" from Display Name when duplicating Slots
DAS-14286 Pivot Performance: Graceful timeout error when too much data is loaded into the pivot
DAS-14658 Evergreen Bucket Bulk Update by CSV
DAS-14657 Evergreen Capacity Unit Bulk Update by CSV
DAS-13973 Standalone or Clone mode option when creating new project
DAS-13807 Evergreen List Filter & Column: Organizational Unit (API)
DAS-13922 Evergreen column & filter: Hardware Compliance & Software Compliance (Query Structure)
DAS-13830 Evergreen List Date Filter Operators: On or before, On or after
DAS-13395 Evergreen Device List Columns & Filters: Project Device Owner
DAS-13083 Pivots: HTML Styles for row groups and columns for Compliance, Readiness and True/False
DAS-12968 Datagrid Additional Copy Options
DAS-12706 Impossible to unselect all columns in Details datagrids
DAS-14752 Monday to be first day of the week on capacity tool tips in Timeline view when language is English (US)
DAS-13106 Generation of license keys directly in Dashworks from an activation key
DAS-12711 Details > Projects > ObjectId columns to be linked to Project Object page
What's Changed
DAS-14275 Dashworks is now built on Angular 7
DAS-14851 Default for 'Onboard Not Applicable Applications' changed from true to false for new projects
DAS-14325 Change "Projects" category for columns and filters to "Evergreen"
What's Been Fixed
DAS-12242 "Dynamic" not included in options for "Choose Association Type" in bulk update
Known Issues
DAS-13858 When exporting from pivots which have columns with HTML styling (e.g. readiness, compliance) the column headers are not included in the export; this is an issue with the third party control used for pivots
Reordering evergreen rings via drag and drop has unpredictable results
Subscribe here to receive the latest Dashworks Release Notes via email.