Dashworks Release Notes - Halo
Executive Summary
Pivots, an exciting new feature, is released in Dashworks 5.3.1. This allows you to build upon the powerful capabilities already in Evergreen lists to create high level, executive views of your data. There are also further refinements to the recent capacity slot functionality, Outlook meeting invitations on automated emails and a new bulk update type in Evergreen lists: Buckets.
Highlights
Pivots
In a very similar way to pivot tables in Excel, you can transform a set of data in an Evergreen list into a summarised (or aggregated) view by choosing columns, row groups and values. This is best demonstrated through some examples of pivots you may find useful.
Operating System By Location
In a pivot, you can choose up to 5 row groups, 2 columns and 2 values. Here a location hierarchy has been constructed on the groups, allowing you to drill down from aggregate values at the global region level (e.g. US-E) through country, city, building to the individual hostnames. Along the columns you can see the various operating systems in the environment, in this case just the windows operating systems as there is filter applied to this list. The cells contain a count of the Device Key field, which is effectively a count of the number of devices fulfilling the row and column criteria.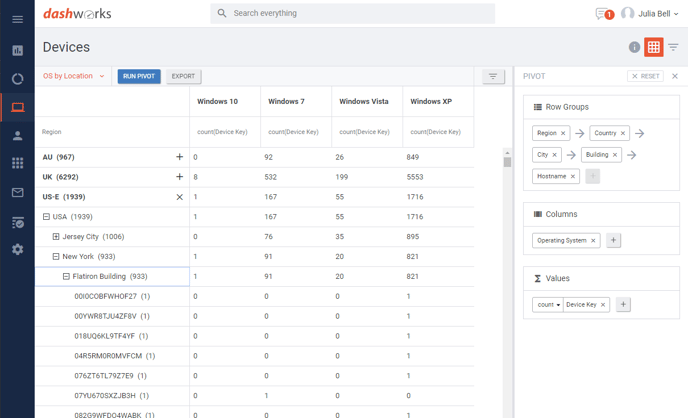 Monthly Deployment Schedule by Bucket
This example shows the number of devices for deployment on each day in November split by Bucket.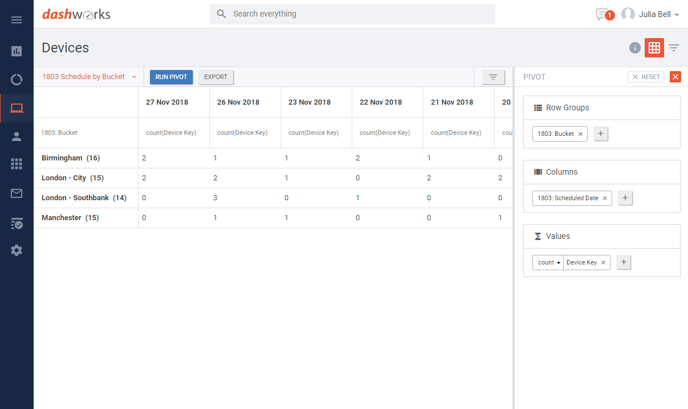 First Deployment by Bucket and Request Type
There are also aggregate functions other than count available such as min, max, first, last and average. Which of these functions is available depends on the datatype of the field you choose for the values e.g. first and last are only available for date fields. Here the first function is applied to the Scheduled Date task to give a view of the first deployment due for each request type in each bucket.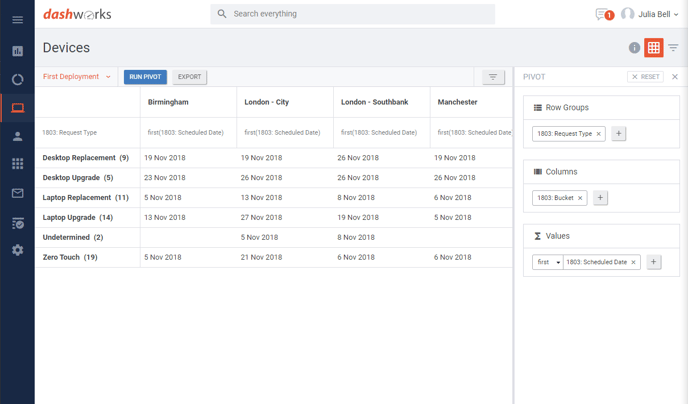 Meeting Invitations
Mail templates now have the option to attach an Outlook meeting invite (.ics file) to them. If it is a date task then the meeting will be an all day meeting; if it is a datetime task, then the meeting will be at the time specified in the task value. This meeting invitation takes the date of the task and offers the following configuration options:
Meeting duration (date & time tasks only)
Meeting reminder offset
Filename
Invitation subject
Invitation body
Evergreen Bulk Update Bucket
It is now possible to bulk update the bucket that a device, mailbox or user is in via bulk update in Evergreen Lists. This applies to both Evergreen and Project buckets. There is the option to also move related objects. Buckets are known as Groups in the legacy Analytics UI.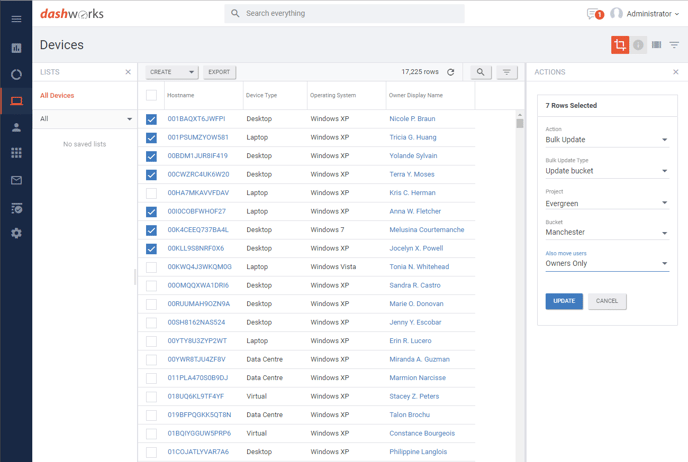 What's Improved
DAS-11496: Evergreen: Alt+S keyboard shortcut takes focus to top search on any page
DAS-12517: Evergreen: User time zone can now be set in the user profile
DAS-12725: Evergreen Mailbox List: Mailbox Owner LDAP columns & filters
DAS-12899: User department filter on applications list to use department selector
DAS-13148: Evergreen Users List: Mailbox Count (Owned) filter & column
DAS-13330: Evergreen Lists: When bulk updating task values, if there is only 1 project this is selected by default
DAS-13607: Evergreen: Refresh button available across screens
DAS-13809 Evergreen Device & Mailbox List: Owner Directory Type column & filter
DAS-13834: Evergreen: Route capacity unit counts from Admin to Lists
DAS-13835: Evergreen: Link Capacity Unit Slots count column to Slots page
DAS-13917 Legacy: Add Capacity Unit filter to some dashboards
DAS-13920: Evergreen: Performance improvements to advanced list filters using application association data
DAS-13975: Evergreen: Capacity Unit Settings: Maps To Evergreen Unit Field
DAS-14005: Evergreen: Add Project Summary component to Application Details
DAS-14013: Evergreen: Add capability to Bulk Update Capacity Unit to also move related objects
DAS-14015: Legacy: Bulk update capacity unit
DAS-14028: Deployment Calendar: Add Capacity Unit column to detail view
DAS-12693: Evergreen Lists: Export filename to include list name and date
DAS-13139 MSI install to be all users instead of single user
DAS-13625: Evergreen Admin: Start and end date columns to be added to slots
DAS-14175 Evergreen Admin: Validation required on date fields on slots & override dates
DAS-14210 Legacy: Increase size restriction on the mail template to 100,000 characters
DAS-14218 Maps to Evergreen column shown by default (and not hidden) for projects with capacity mode set to Clone
What's Changed
DAS-14027: Legacy: Remove Request Type, Capacity Unit and Team filters from Capacity Report > Detail & Exception, as these no longer make sense
DAS-14154: Legacy: Level 2 Clickthroughs for Capacity Report Details and Exceptions Views to have their own pages instead of using Deployment Calendar
DAS-14198: Evergreen: Admin > Projects > Scope > Scope Changes: Remove "UPDATE XXX CHANGES" buttons as these are confusing
What's Been Fixed
DAS-13886: Dashworks install fails if db_executor role already exists
DAS-13927: Some characters exported incorrectly when exporting a list to Excel in Evergreen
DAS-13931: MSI fails during web component install if Windows Firewall is not running
DAS-13986: Formatting of Key and ID values
DAS-14006: Tag search results not correct
DAS-14139: Department Fields getting Truncated in Evergreen Object Pages
DAS-13990: Application Dashboard level 2 times out in some scenarios
DAS-13996: SP_ETL_ComputerObjectUpdate very slow on some datasets
DAS-14204: Arithmetic overflow error in SP_ETL_FactComputerSpecification_SCCM_F - calculating TargetDriveFreeSpaceMB
DAS-14219: Mail Notifications duplicated instead of updated
Known Issues
DAS-14413: Pivots: reset button on column select behaviour incorrect
DAS-14442: Evergreen: User is able set start date later than end date on capacity slot create and update
DAS-14446: Legacy: Deployment Schedule capacity colours incorrect in some cases
DAS-14463: Evergreen: The default language on the project details page in Evergreen is not shown in high contrast colour theme, when high contrast is enabled
Subscribe here to receive the latest Dashworks Release Notes via email.