AppM Release Notes - Kendrick

Executive Summary
This release of AppM includes a number of features designed to increase the efficiency of importing and using data in AppM. AppM now also includes the ability to test IntuneWin package formats in Evergreen Testing, extending the range of formats currently available. Additionally, the MECM import process has been reworked to support the just-in-time feature and the import sync process.
Highlights
IntuneWin Evergreen Testing
AppM enables you to test your applications against new builds in an automated way. For example, you can launch a VM, run installation, uninstallations and user-defined testing if required. This is helpful when you're updating to a new build and you want to test your apps in a completely automated environment. This release extends that functionality to IntuneWin, providing another key tool for AppM users who use Intune as the main deployment mechanism.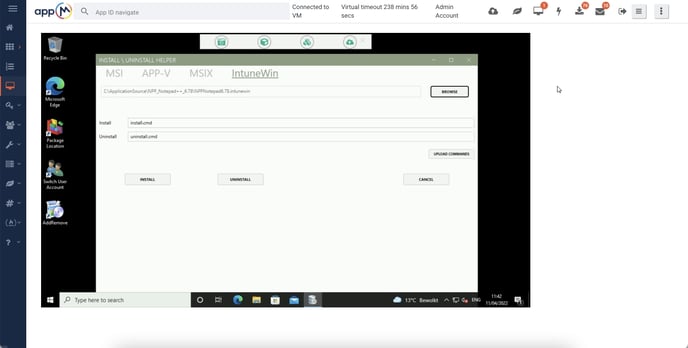 Just-in-time
Just-in-time allows you to import application data without directly importing and storing the source files. This feature speeds up the import process, and reduces the volume of imported data required on AppM.
Revert to Snapshot
The Revert to Snapshot action has been moved to the end of the testing process, so that testing is performed on a clean snapshot. This decreases the delay at the start of the testing process. This change applies to all hypervisors and virtual environments, and is particularly useful for Azure environments as Azure VMs can take a long time to revert snapshots.
What's New
AA-1198 Intune Win supported for Evergreen Testing

AA-514 Run tests with applications/packages from remote storage, without copying them to AppM.
What's Changed
AA-1697 Active virtual machine not accessible until browser page refresh

AA-1624 WVD has been renamed as MSIX AppAttach throughout AppM

AA-1581 Rework UPLOAD PACKAGE for IntuneWin package type

AA-1580 VNC RDP Sonar vulnerabilities have been fixed

AA-1116 Create New User entry fields have been reworked for user, job and company details

AA-1335 The sequence of steps in testing has changed. Revert to snapshot is now available when a test is finished.

AA-1516 Import/Export now synchronized between AppM and MECM
What's Been Fixed
AA-1703 Evergreen End time of test was displaying incorrectly

AA-1760 Credential provider has been updated

AA-1726 Appmanager.service has been updated

AA-1725 Template installer was blocked by AV

AA-1723 AppM was hanging when an application finished the QR stage

AA-1719 Access to API documentation restored

AA-1701 Other type Packages were appearing as MSI in Evergreen testing

AA-1693 Values added for 'Select' type publishing were not correctly saved

AA-1655 Client Tool crashes during QR under certain circumstances

AA-1645 Plain-text passwords were visible in C:\juribacredential.dbg file on VMs.

AA-1627 Import process is now disabled if DA is turned off

AA-1475 Blank VM screen displayed during Ranorex test.
Known Issues
AA-1789 Testing fails on create Ranorex tests
Notices
All end of support notices are available publicly here.
AppM 3.3
AppM 3.3 will be released in middle Aug 2022
End of support for Microsoft SQL Server 2016