AppM Release Notes - Ito
Executive Summary
With Microsoft Intune in use for many enterprises, supporting its native package format (IntuneWin) is key for application packaging teams. AppM can now create IntuneWin packages alongside other formats such as MSI and MSIX, supporting your journey to modern workplace management.
In this release, AppM now natively supports Nutanix AHV virtual machines for packaging and testing applications. Nutanix AHV is an increasingly popular virtual environment solution requested by our customers and partners.
Highlights
IntuneWin Packaging
You can now package applications to Microsoft's IntuneWin format (*.intunewin) in AppM. This enables you to manage your apps, ready for deployment to Intune as Win32 apps. Packaging applications with an IntuneWin wrapper enables you to deploy applications with any installation mechanism via Intune (including MSI, exe, or even a batch file) without a full repackaging exercise.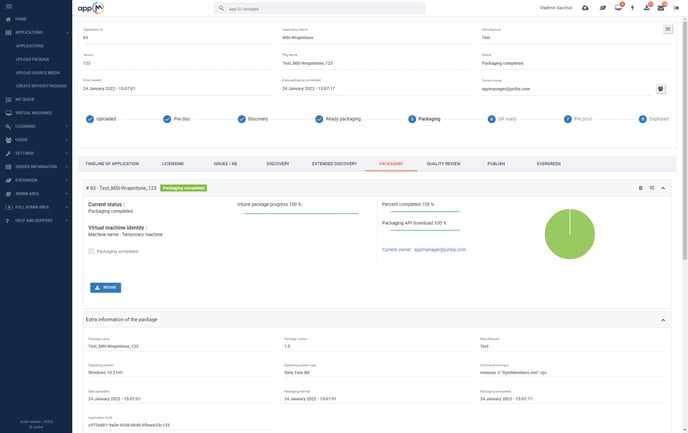 Nutanix AHV
AppM now supports Nutanix AHV as a virtual environment for testing and packaging, alongside Hyper-V, VMware and Microsoft Azure. This addition provides you with a selection of four of the most popular hypervisor solutions for enterprise.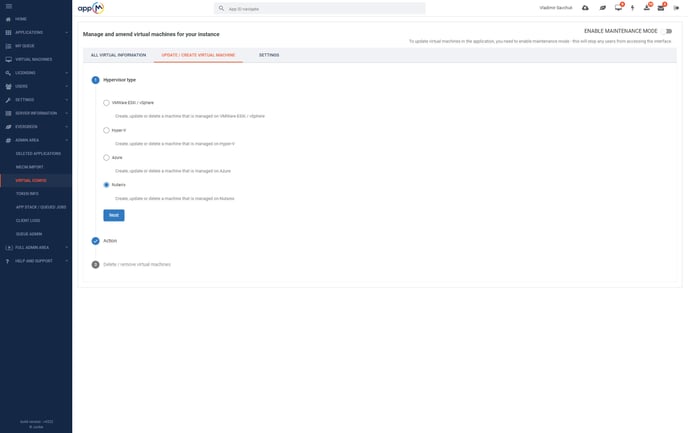 What's New
AA-932 Publishing apps via API preview
What's Changed
AA-829 The import progress bar is now displayed while MECM import is in progress, even if a page is reloaded.
AA-908 The progress-status of a virtual machine displays additional feedback when starting up.
AA-918 As an AppM Administrator, you can now add a target folder for the Distribution Assembly MSI installer.
AA-1137 The Distribution section of the workflow has been moved to follow the QR tab in sequence
AA-1139 An application's current status page opens when selected from the Applications section.
AA-1164 The Applications and Users sections have been reorganized. Applications now includes: Upload Package, Upload Source Media, and Create Without Package options. Users now includes Contacts, and the previous Discovery and Upload sections have been removed.
AA-1257 Log4J has been updated to version 2.17.1 in response to the fix applied for the known security vulnerability: NVD - CVE-2021-44228
What's Been Fixed
AA-463 Changes made in the Install and Uninstall command line on Packaging were not consistent with the Evergreen page.

AA-704 Send Test Email on Email Notifications displayed an error, and required you to save the email configuration before sending.

AA-782 Post Configuration changes were not always saved.

AA-813 AppM user password change was not accepting complex passwords.

AA-873 Removal of a VM produced an error, despite the VM being removed.

AA-964 Completion of Quality Review was returning a user to the Distribution tab, instead of the QR tab.

AA-903 AA-1188 Error message text has been improved, when creating a user with an existing email address.

AA-1200 AV scanning was not implemented on pre-packaged applications.

AA-1221 Windows Authentication failed to log on when an instance was migrated from one Azure locale to another environment

AA-1229 When creating a user with an invalid password, the error message was not subsequently cleared

AA-1252 Login screen appears twice when using Windows Authentication
Known Issues
AA-1476 Command line details are missing for MECM import of applications or packages on Packaging tab

AA-1542 Following an MECM import of applications or packages with saved command lines, Command line and Uninstall command are blank on the Evergreen page and Evergreen testing is not possible for those packages.

AA-1392 Incorrect Owner Email shown for applications when Windows Authentication is enabled.
AppM 3.3
AppM 3.3 will be released in middle Aug 2022
End of support for Microsoft SQL Server 2016