AppM Release Notes - Hubble
Executive Summary
This release contains significant changes to the look and feel of AppM, including a reorganized side menu and styles. AppM also now supports Microsoft Azure virtual machines as used by AVD. This gives you a powerful solution for application packaging, Evergreen smoke testing and functional testing that leverages your existing Azure infrastructure.
Highlights
AppM User Interface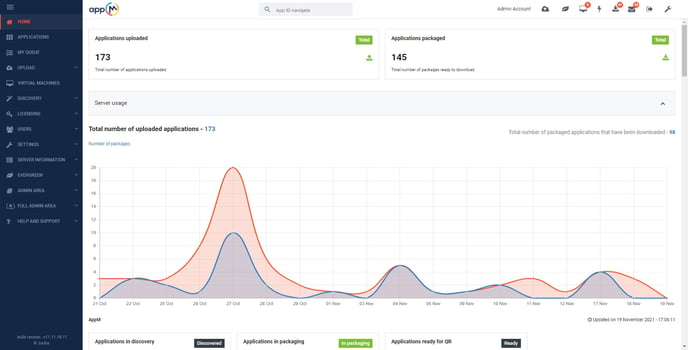 AppM's user interface has been redesigned to feature new styles and a reorganized side menu, bringing consistency across the Juriba product suite. This change also makes it easier to navigate through AppM, and enhances the user experience. Customers familiar with Dashworks will find this change will help maximize productivity.
Azure Supported as Virtual Environment
Alongside existing hypervisors, VMware and Hyper-V, AppM now also supports Microsoft Azure as a virtual environment. You can now perform packaging, Quality Review (QR), Evergreen smoke testing, and functional testing in Azure, giving you a powerful solution for packaging and testing in AppM, regardless of your infrastructure preferences.
What's New
IAA-720 Removed mandatory flag from KB Version on 'Upload KB patch update' screen
AA-766 'Import all' and 'Start a scan' buttons disabled if scan or import already started
AA-806 Order of the functional tests (UFT, Ranorex) can be switched
AA-807 'Site code' is not mandatory during application creation
What's Changed
UI colors and styles have been updated to match Juriba branding
The ability to customize themes and colors has been removed
AA-651 Side Menu restyled to collapsible menu
AA-771 AA-750 Lock (lock screen) has been removed from Side Menu
What's Been Fixed
AA-816 Incorrect time of 00:00:00 was displayed as MECM import completed time.
AA-818 Scan in progress was shown with a spinning cogwheel on the MECM import page, following removing data from the [AppManager].[distribution].[ApplicationCache] table.
AA-924 IMPORT - ERROR MECM HOST IS NOT UNIQUE was displayed during Test Connection in MECM Settings.
AA-701 MSIX versioning was restricted to four digits.
AA-804 KB patch option was not displayed when editing a scheduled test.
AA-859 "Error: Error creating the test" was shown when attempting to schedule an Evergreen test for an application on an environment it had not been run against previously.
AA-911 The Scan in progress cog loader is shown constantly and the buttons: Import All, Start a scan are missing from UI on the MECM Import page after deleting MECM settings.
AA-937 Adding an entry to Settings > Snapshots > Add File/Directory resulted in a blank entry and failed to save.
Known Issues
AA-1200 AV scanning not implemented on Pre packages