AppM Release Notes - Faraday
Executive Summary
AppM 2.4 is an important release for any organisations still using packages in Microsoft Endpoint Configuration Manager (MECM) rather than, or as well as, the application model. These packages will now be imported alongside applications, using the existing MECM import functionality. In the ongoing effort to improve our security posture, media uploads are now subjected to anti-virus scans to protect the integrity of your infrastructure.
Highlights
Import Packages from MECM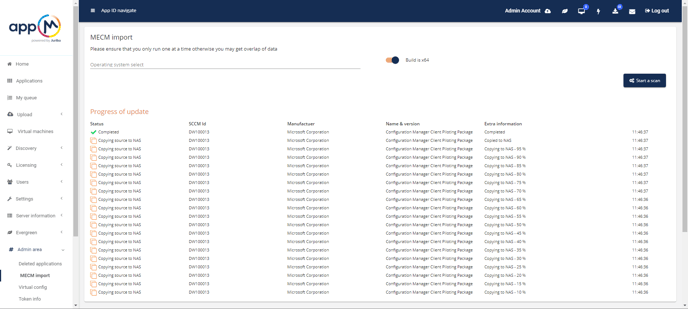 Previously the import from MECM included applications, but not the legacy packages. However, many organisations still use the packages and programs approach in MECM, and have not yet fully moved to the application model. In AppM 2.4, rather than having to upload MECM packages manually, you can be automatically import them directly from MECM at the same as the applications. The import includes programs containing install and uninstall commands, ensuring these MECM packages are immediately ready to be tested, repackaged and converted. Where it is not possible to determine the install and uninstall commands, a dedicated page provides you with options to resolve them.
Anti-Virus Protection for Uploaded Media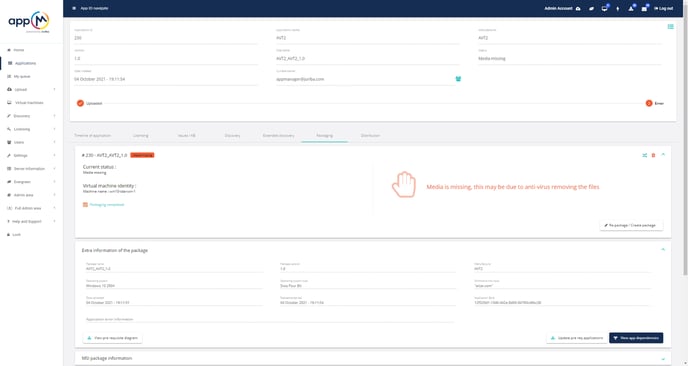 Uploaded media, such as application source files, are now protected by anti-virus, ensuring malicious files will be identified and discarded. AppM uses your existing corporate AV solution, whether that be Windows Defender or a third party, to ensure that all files meet the security requirements already in place. This functionality uses Microsoft's Antimalware Scan Interface (AMSI) .
What's New
AA-564 Expired driver certificates have been replaced with new certificates signed by Microsoft

AA-655 KB patch installed after application

AA-661 Missing Install Commands page enables management of command conflicts
What's Changed
AA-560 Virtual Machines displays No Virtual Machines Found when none are available

AA-561 Packaging API download changes to green when download reaches 100%

AA-540 You can configure MSIX or other new types during the upload of pre-packaged apps so that you can select them as an expected pre-packaged application.

AA-595 Suppress Legal Notice check box has been removed from the installation file. This can be manually enabled if required.

AA-639 MECM Import checks the availability of packages before importing

AA-590 ProductCode is stored so that you can export pre-uploaded and imported applications to the MECM servers

AA-620 Logs have been added to provide more information about why an import has stopped.

AA-652 Zipped application name is now more user friendly, displaying as applicationName_Version_Manufacturer, instead of GUID.
What's Been Fixed
AA-591 VMs can be started from the virtual API but when trying to install an application before packaging, the VM does not start

AA-579 Uninstall command line not autogenerated during Evergreen test, if the ZIP file containing the installers is in the subfolder

AA-387 Deleted Environment on the 'Run Evergreen testing against' modal window

AA-653 Video not shown when the test completed

AA-654 Run Application Against Environment DLL empty if the VM used for application testing is removed
Known Issues
AA-384: "Soft delete" removes multiple VMs if they share the same OS build