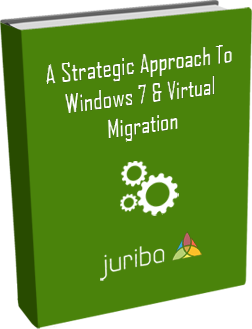 Content will only be distributed when a valid work email address is supplied!
This high-level, strategic white paper addresses business, solution, and product specifics that should be considered when architecting, planning and preparing for enterprise Windows 7 or virtual migration.
It also provides best practices on how to approach the application migration problem, and how to avoid this problem for future migrations.
Juriba has gained in the past 10 years extensive IT transformation experience helping hundreds of organizations ready more than 7 million assets for migration using its data warehousing and IT project management tool, Dashworks.
Learn how to best plan your enterprise Windows 7 migration by requesting your free white paper by filling out the form to the right and providing a valid work email address!
We do hope you find our resource insightful, and if you think the project plan could be beneficial to a colleague or friend, do feel free to share it with your connections!