Yellow Dwarf - Dashworks 5.5.0
Executive Summary
5.5.0 is a major new release of Dashworks and introduces the new Evergreen Self Service feature. Self Service is set to be a game changing feature which we will continue to build over the next 18 months with increasing flexibility and functionality. At this stage, self service is a preview with a small subset of the final functionality, focusing on the application ownership use case.
Watch the latest Release Notes Video here (12 mins).
Highlights
Self Service Preview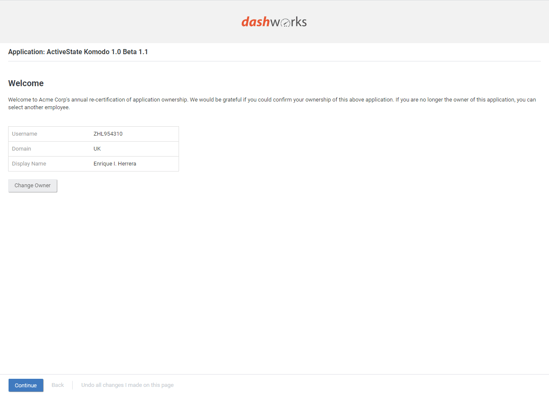 The new self service preview allows users across your organisation, many of whom would not normally use Dashworks, to confirm or change ownership of applications. Application owners are people who are the single point of contact within the company for an application who may be responsible for licensing, testing and approving new versions. Self service has been built as a flexible open structure that will ultimately serve multiple different use cases. This first release presents the end user with information about the owner of an application with the opportunity to change it to another user.
Project User, Device and Mailbox Count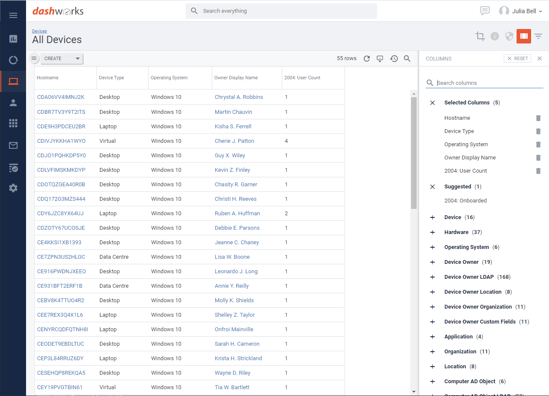 There are now several new user, device and mailbox counts available for projects. Users has project device count and user count for device and user scoped projects; and mailbox count for mailbox scoped projects. Devices and Mailboxes have project user count. These allow you to quickly see the volume of associations between one object and others in the same project.
Empty Data Points Shown in Dashboard Widgets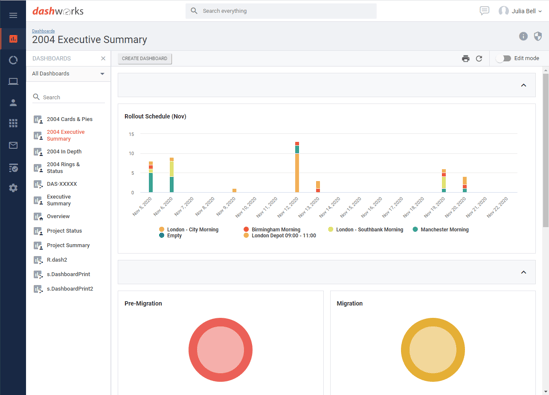 When you create a widget based on date data, dates which have a count or aggregate of zero, within the range of dates will now be plotted as a data point. This gives an even cadence to the data along the axis, and is how most users would expect to see the data displayed. This is particularly useful when showing schedules or monthly snapshots of data on dashboards.
What's Improved
DAS-20894 Application Details: Self Service> Self Services tab
DAS-20246 Application Details: Self Service> Self Service Status tab
DAS-21171 Legacy UI: Project name is shown on project object Details tab
DAS-21103 Applications: Device and User Count columns are now clickable to see underlying data
DAS-20799 Dashboards: Data labels now show count and percentage on donut and pie widgets
DAS-21008 Favourite Bulk Updates for Application Attributes
DAS-21003 Favourite Bulk Updates for Capacity Unit
DAS-21003 Favourite Bulk Updates for Ring
DAS-21003 Favourite Bulk Updates for Bucket
DAS-21241 Default Favourite Bulk Update
DAS-20370 AUTOMATION option to the CREATE button on the all object lists
What's Changed
DAS-20954 Filters: Add "Automation Action" label to filter

DAS-20943 System lists do not need to be validated

DAS-21258 Devices: Use Domain from DimComputer table as column and filter data

DAS-21338 Columns are no longer validated where not necessary


DAS-21494 All Device Applications is now All Application Devices

DAS-21494 All User Applications is now All Application Users

DAS-21464 Mailboxes: Import filter should be changed to multiselect

DAS-21469 App Count (Used) column should shows incorrect values

DAS-20687 Bulk Update/Actions: Bulk Update Type/Action Type DDLs should be an input field

DAS-19685 Evergreen Details > Update Evergreen Ring (New modal + Security)


DAS-21146 Evergreen Details > Update Evergreen Capacity Unit (New modal + Security)
What's Been Fixed
DAS-20815 Lists: Import filters show deleted and archived imports
DAS-21098 Lists: Date filters do not include selected day when using date time values
DAS-21034 Admin > Automations: Only one item selected when clicking select all
DAS-21234 Unable to attach files with DashworksAdmin account disabled
DAS-21347 Dashboard drill through not working for mailbox lists
DAS-21421 DJ: "Import" filters should have ID in query instead of the strings (API + Remediation)
DAS-21466 Actions/Manage Favourite B.U: [Target application not found] should be shown if selected app was offboarded
DAS-20923 Automations not shown when SQL Agent job for schedule doesn't exist
DAS-21275 Evergreen. User without Project Administrator role should perform Bulk Update
Known Issues
DAS-21517 Admin > Scope Details: Owned and Delegated checkboxes are ignored
DAS-21520 Admin > Scope Details: Other mailbox and Mailbox folder permissions are ignored
DAS-21953 Dashboards: Filter with "Value not found" is displayed after clicking through on a widget based on the device Domain column
DAS-22015 Dashboard Stacked Bar changes colours and order randomly
DAS-21817 404 error is displayed in the console after switching between projects on the Object Details > Project Details tab and then clicking any link to another page
DAS-22034 Evergreen. Applications are displayed in the Device column on the object details page "Related" tab
DAS-22019 Evergreen. User can't select capacity unit for bulk update if the project has a created capacity unit named "Unknown"
DAS-22053 'Missing column' is displayed for a selected Import columns in static lists if list was created Pre-Yellow Dwarf
Dashworks 5.5.1 Released 31 July 2020
Dashworks 5.5.0 Released 30 June 2020
Dashworks 5.4.9 Released 3 June 2020
Dashworks 5.4.8 Released 7 May 2020
Dashworks 5.4.7 Released 3 April 2020
Dashworks 5.4.6 Released 10 March 2020
Dashworks 5.4.5 Released 3 February 2020
Dashworks 5.4.4 Released 2 December 2019
Dashworks 5.4.3 Released 7 November 2019
Dashworks 5.4.2 Released 27 September 2019
Dashworks 5.4.1 Released 2 September 2019
Dashworks 5.4.0 Released 5 August 2019
Dashworks 5.3.7 Released 28 June 2019
Dashworks 5.3.6 Released 7 June 2019
Dashworks 5.3.5 Released 17 May 2019
Dashworks 5.3.4 Released 25 April 2019
Dashworks 5.3.3 Released 4 Mar 2019
Dashworks 5.3.2 Released 7 Feb 2019
Dashworks 5.3.1 Released 4 Dec 2018
Dashworks 5.3.0 Released 6 Nov 2018
Dashworks 5.2.9 Released 28 Sept 2018
Dashworks 5.2.8 Released 5 Sept 2018
Dashworks 5.2.7 Released 2 Aug 2018
Subscribe here to receive the latest Dashworks Release Notes via email.