Quasar - Dashworks 5.4.2
Executive Summary
In the Dashworks 5.4.2 release, progress continues on the Automations and Evergreen Details workstreams. A new automation action type means it is now possible to update project task values in the background based on logic. Evergreen details now has project object relinking and offboarding available. These functions have been improved from similar functionality available in the legacy interface. In Dashboards, the ability to aggregate by severity on readiness and compliance values supports the creation of executive scorecards.
Watch the 5.4.2 & 5.4.3 updates video here (8 mins).
Highlights
Update Task Values via Automations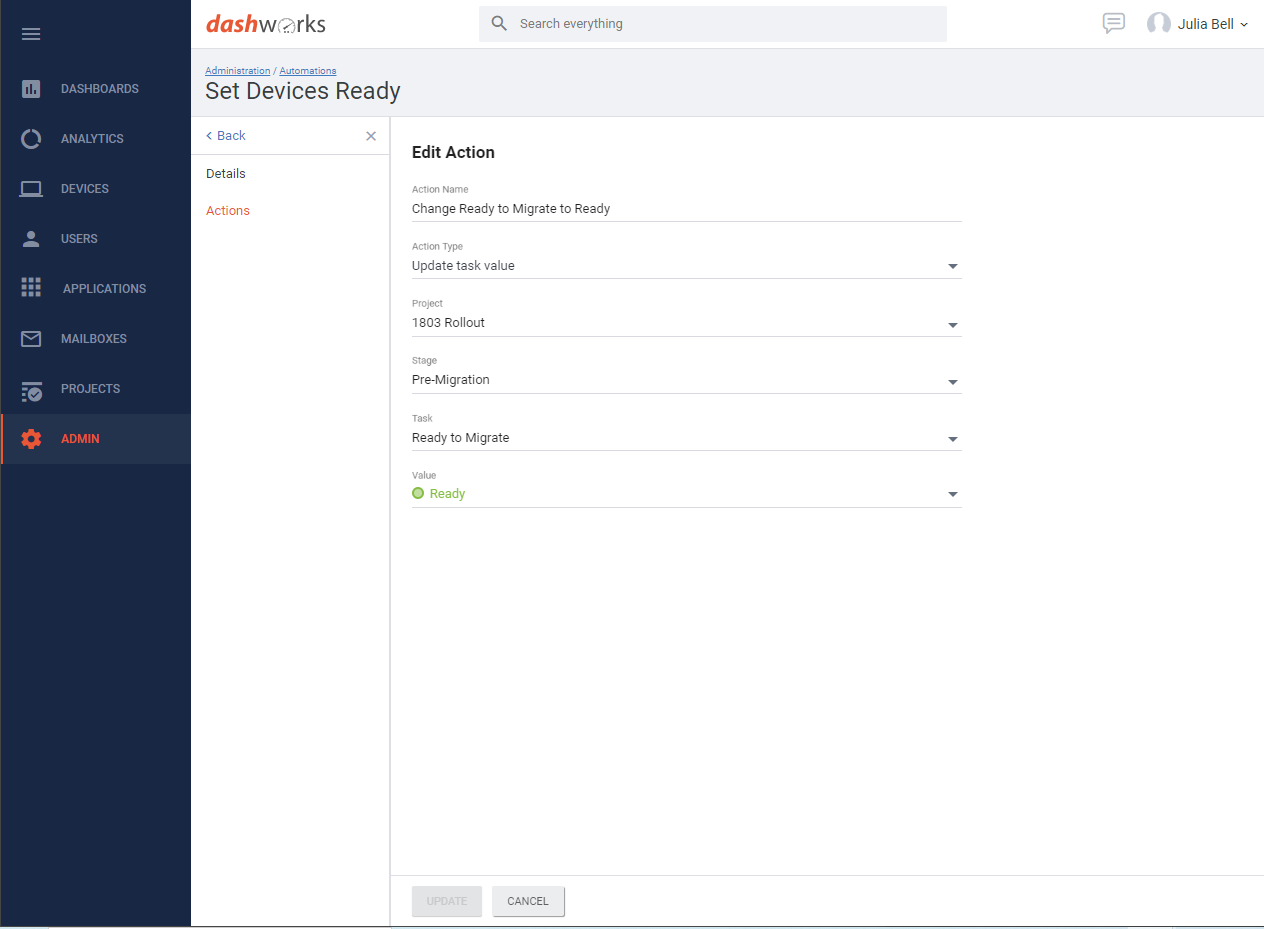 The second action type to be introduced to automations is Update task value. Automations are workflows that run in the background on a schedule, without the need for manual intervention. The scope of an automation is based on a saved list, pre-defined actions are then performed on the objects in the list according to the schedule. The Update task value action supports all types of task value: radiobutton, date and text. It can can also be used to amend capacity slots and task owners. Being able to update task values in this way is a critical step towards being able to automate your workflow based on incoming data changes or other activities performed in the system. An example would be switching off a user's access to self service once a scheduled date has been set for their migration.
Offboard and Relink Objects in Evergreen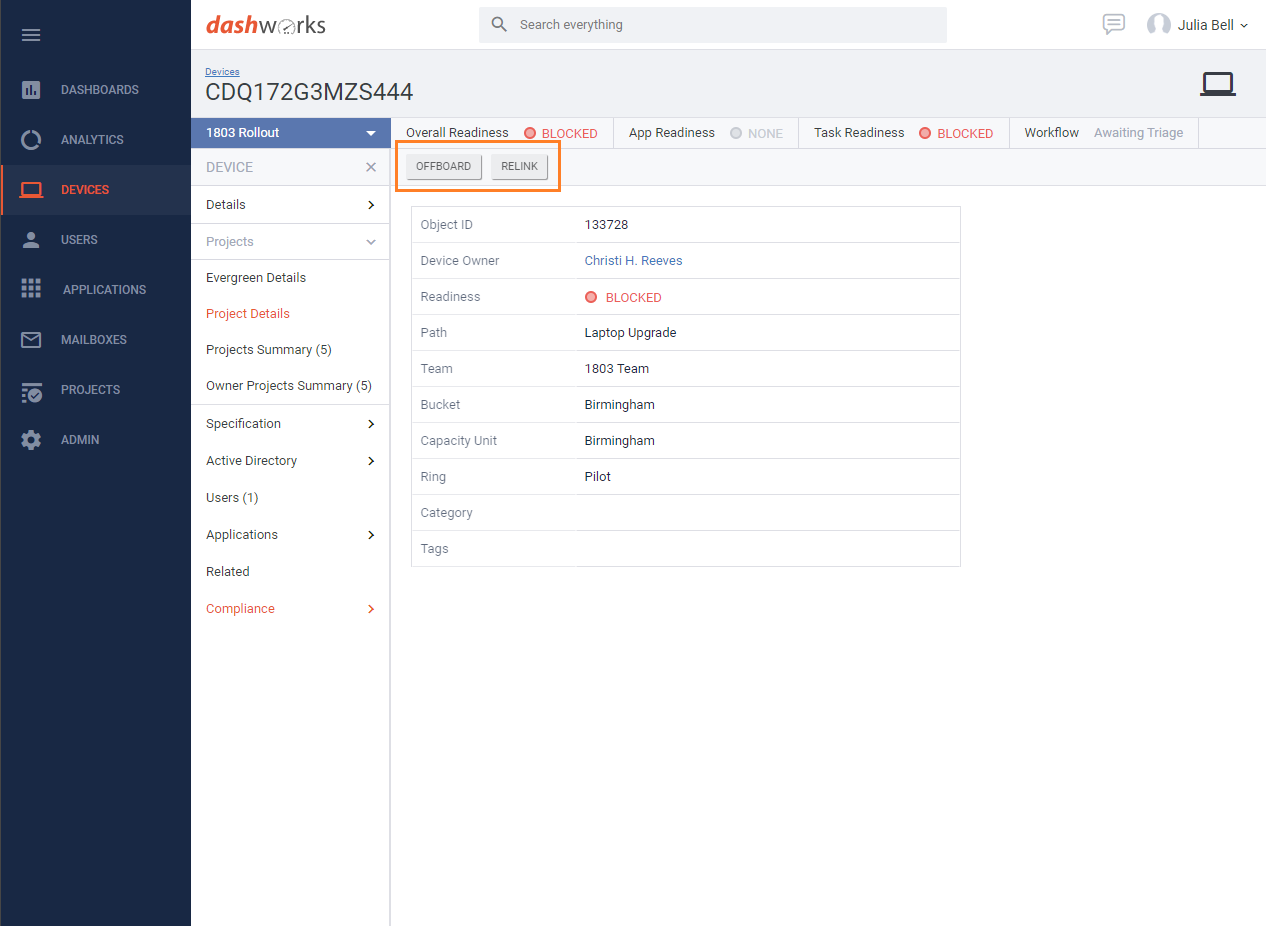 Progress continues on introducing interactive functions to the Evergreen Details pages. The latest two on the Project Details page are buttons to offboard and relink objects, which are both already available in the legacy interface and work in a similar way. Offboarding removes an object and all its information from a project, whilst retaining its Evergreen data and information in other projects. This functionality is improved in Evergreen since you are now offered the choice to also offboard associated objects whether the object you are offboarding is a user, device or mailbox. Relinking allows you to change the link between an object in a project and its related object in Evergreen. This can be useful when tracking a device which has been replaced as part of it's migration through the entire process.
Aggregate by Severity on Dashboards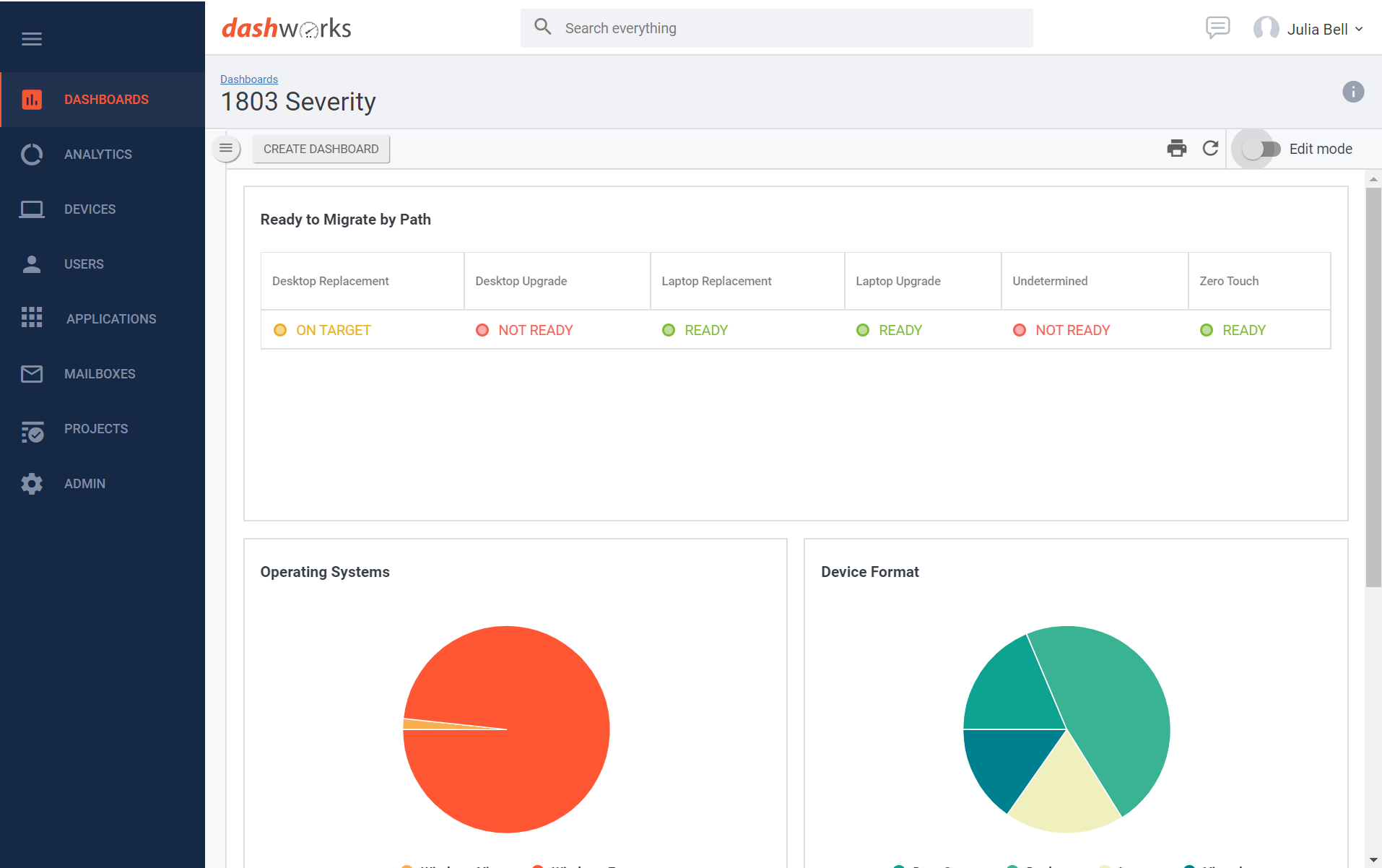 A new way of aggregating data is available on table widgets in dashboards. If Severity is chosen in the Aggregate By field, you are able to show the worst case readiness or compliance across each of the values you have chosen to split by. An example is to create a table where the columns are each of the paths in a project and the worst case readiness in that project is shown as a value for each of those paths. This can be used to create executive views of project progress that are broken down into more detail.
What's Improved
DAS-16842

System lists such as All Devices are identified in drop down lists with a cog icon
DAS-16948

Evergreen Admin: Add expand/collapse added to Navigation menu
DAS-17557

Serial Number available for archived devices
DAS-13959

Evergreen Admin > Projects > Project > Scope > History should only contain one row per onboarded or offboarded object
DAS-16167

Dashboards: Preview message for lists where aggregate values are zero to be "All values are 0"
DAS-17461

Dashboards: Moving a widget to another position should not refresh data
DAS-17771

Automations: The length of Description is too short
DAS-17789

Lists: Automation filters to show automation actions, not automations
What's Been Fixed
DAS-17546

Global_XXX logs not being created for Evergreen\Dashworks.API website
DAS-17755

Reindexing does not include Email database
DAS-17777

Legacy: Page title missing for bulk update results
DAS-18082

Lists: Device Operating System filter missing from Applications list
DAS-18102

Legacy: Project Dashboard not display correctly when user's default project is null or 0
DAS-18106

Lists: Error occurs and no list data is shown when using filter for Project: Target App ID column
DAS-18133

Lists: 500 error on Applications List when using the advanced filters with the empty value
Known Issues
DAS-18186

Dashboards: Table widgets aggregated by severity which include an empty split by value show an incorrect aggregate value for Empty
DAS-18186 Dashboards: Table widgets aggregated by severity have an incorrect sort order for some Compliance fields
DAS-18158

Capacity slots timeline view should not have column filters or tooltips
DAS-18150 Lists: Order of Devices List > Columns > Operating System is different between columns and filters
DAS-18143 Legacy: Rows in My Task List get multiplied when users assigned to tasks are in more than 1 team
DAS-18137

Lists: Postal Code and State/County data is the wrong way round
DAS-18129 Set Owner and Add User should not be possible with offboarded objects
DAS-18126 Favicon icon disappears form time to time while navigating between Legacy and Evergreen
DAS-18121 Evergreen Details: Values in custom fields are displayed in order they were added, not in alphabetical order
DAS-18116 Evergreen Details: Evergreen owner is flagged as project owner
DAS-18107

Evergreen: Incorrect formatting of row count when filtering the project scope > queue or history grids
DAS-18066 Evergreen: Click through on Empty values in Dashboards redirects to a broken filter
DAS-18025 Evergreen: Columns for radiobutton tasks with date time do not show time
DAS-18015 Evergreen: Green message is displayed instead for 'Project not found' after offboarding an object from a deleted project
DAS-18324 Dashboards: Errors occur when creating or editing a table widget that returns 0 results
Subscribe here to receive the latest Dashworks Release Notes via email.