Nova - Dashworks 5.3.7
Executive Summary
The first wave of project information has been introduced to Evergreen details. Crucially the framework is now in place for a user to move between Evergreen and project specific information for a single object in these pages. Basic project details for each object type have been included in this release, with more pages and functionality coming with each new release until all the functionality in the legacy interface is included. New filters and columns for individual hierarchical department levels bring a new angle to organizational reporting in lists and pivots. Email communications can be switched on and off per project, allowing new projects to be ring fenced whilst they are still being configured and not yet ready for production. The build out of filters for rings continues, with the first ring filters being introduced to the Apps list..
Highlights
Evergreen Details: Project Switcher and Summary Bar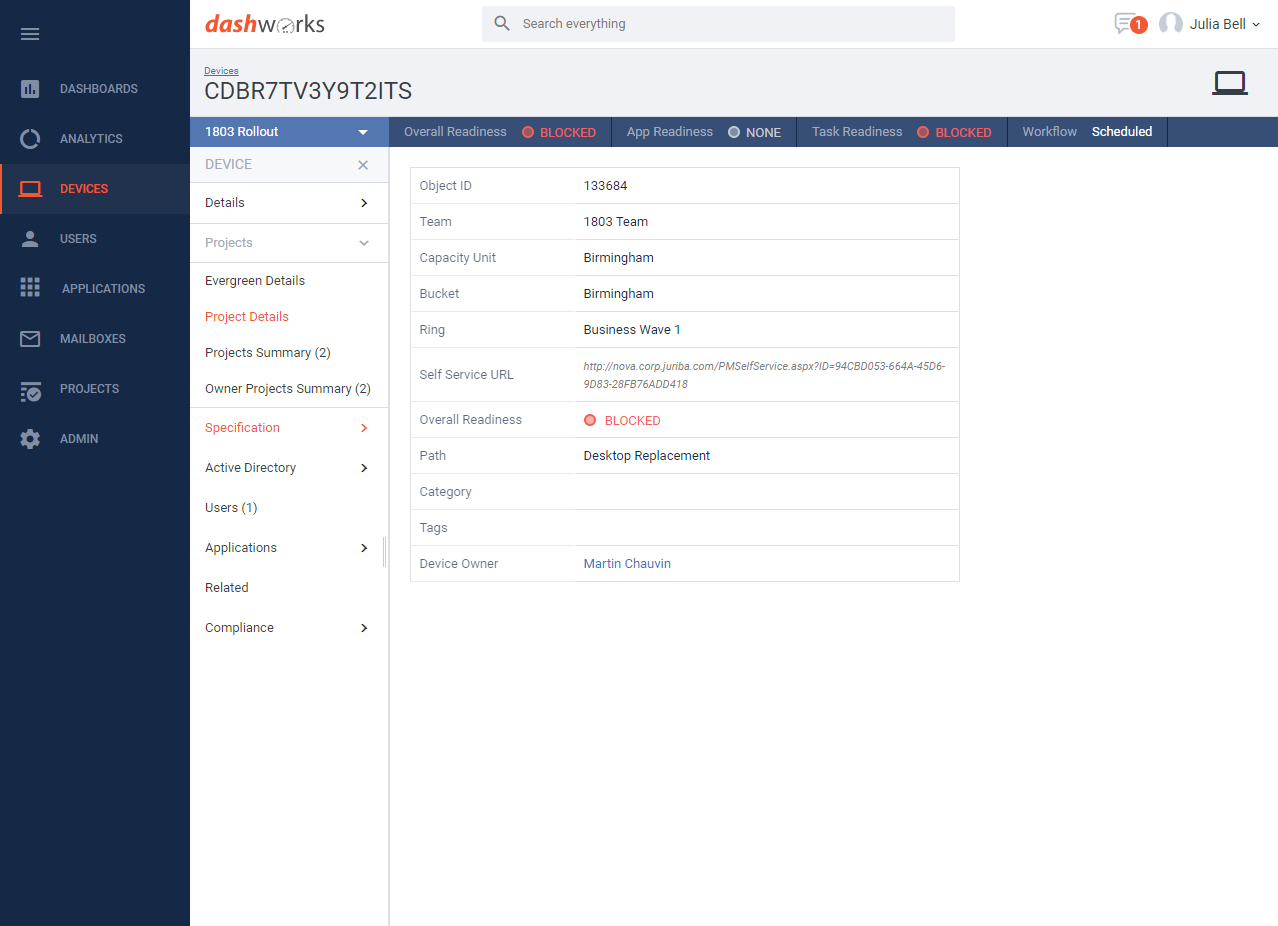 The new Evergreen Details pages are being built out to show all Evergreen and Project information about each project (DAS-14975). Dashworks will always hold Evergreen data for each object, but may also hold project data for the same object, sometimes across multiple projects. The project switcher and summary bar enables users to easily change their view of an object's data between Evergreen and any relevant projects. It also provides a summary of compliance information in Evergreen mode, and Readiness information in Project mode. This release includes the new Project Details page under the Projects section of Evergreen Details.
Evergreen Lists: Department Level Filters & Columns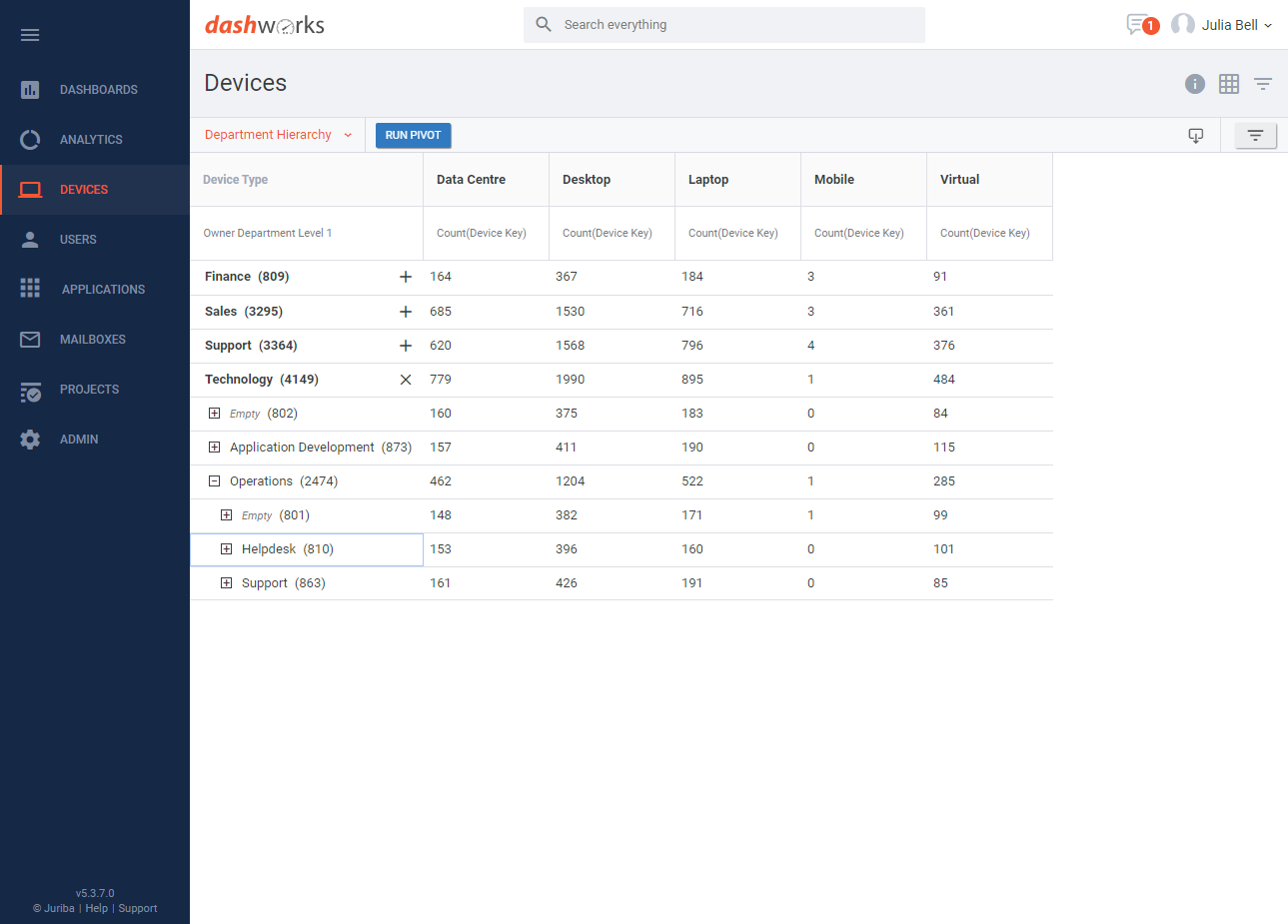 New filters and columns that represent individual levels in your department hierarchy facilitate more flexible organizational reporting (DAS-14670). The new columns and filters appear as Department Level 1, Department Level 2, etc. under the Organization categories on all list types. There will be as many levels as there are in the department data. Where a level in the department hierarchy has a particular meaning, e.g. level 2 is your line of business, it is possible to cut through the data at this level horizontally. When added to Row Groups on a Pivot, the department levels can be used to create a department hierarchy that can be browsed through multiple levels.
Email Communications per Project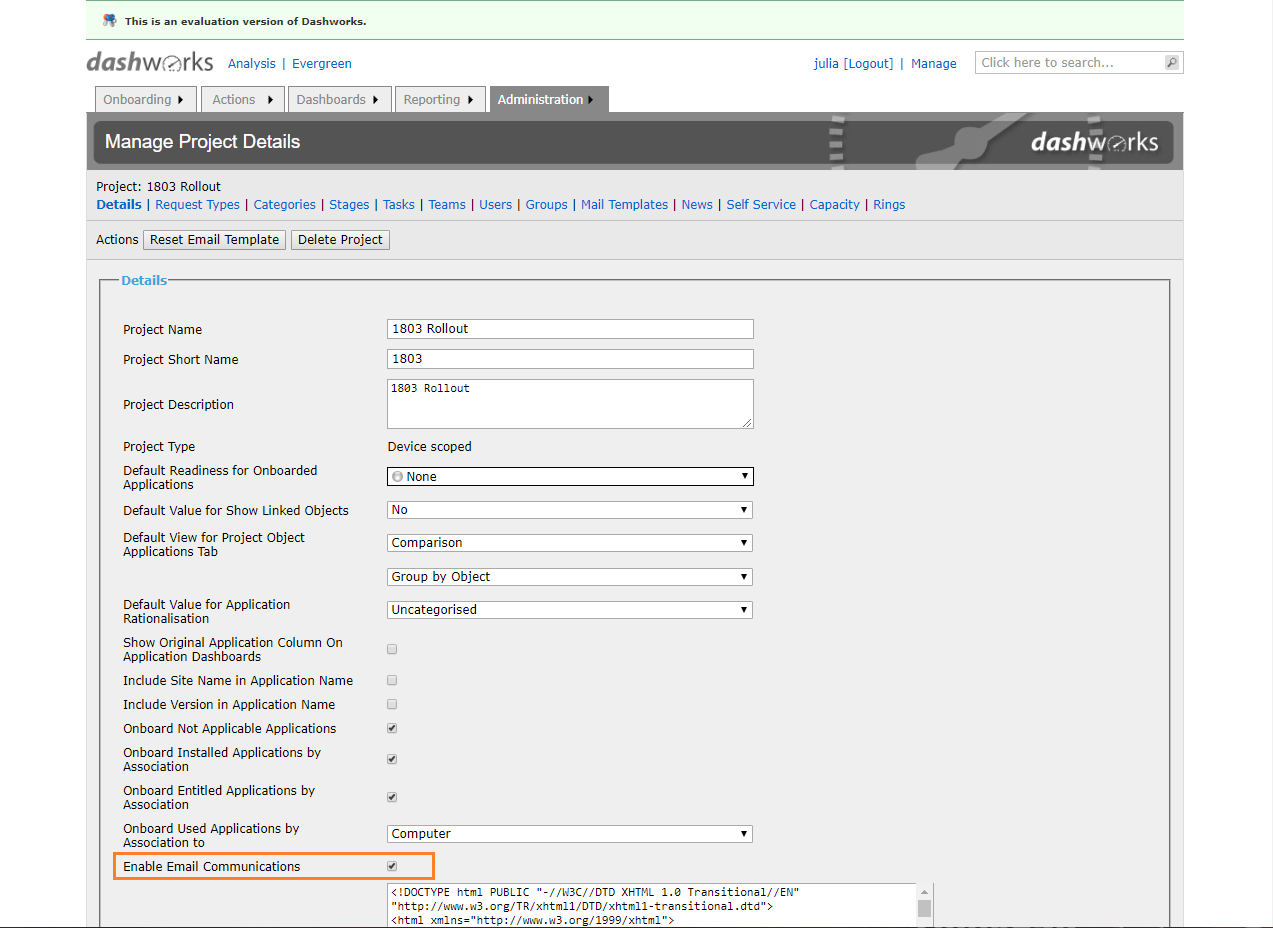 Email communications can now be enabled or disabled separately on each project (DAS-10283). This allows new projects to be set up with email functionality, without the risk of emails being sent before the configuration is finished, whilst any existing projects using email functionality will be able to continue sending emails.
What's Improved
DAS-10824

Evergreen bulk update to give better feedback when service broker is disabled
DAS-15761

Apps list: Ring filters and columns for applications associated to a device in a device scoped project
DAS-16562

Email Notification Report to report on owners of devices who have been opted out of email communications
DAS-16945

Android and iOS mobile operating systems to be recognized
DAS-16814

Status filter and column to be included on object types that are not the primary object type in the project
What's Changed
DAS-16925

Request Type has been renamed to Path in Evergreen
DAS-16485

Evergreen Lists: Text representation of filters has been moved to filters context pane
What's Been Fixed
DAS-15738

ICS file attachments on mail templates do not support double byte characters
Subscribe here to receive the latest Dashworks Release Notes via email.