Welcome to the main Dashworks Release Notes page. Here is the latest Dashworks Release.
Please find all releases starting from 5.2.7 linked at the end of this page.
If you want to be notified by email when a new release is published, you can subscribe using the form on the right.

Executive Summary
5.3.6 is a slim release. There have been improvements to Evergreen Dashboards, and also bug fixes. Behind the scenes the development team is focused on building a new structure to support the functionality needed in the Evergreen Details pages, Automations and reporting on archived objects. All these new features are expected for release in the forthcoming months.
Highlights
Evergreen Dashboards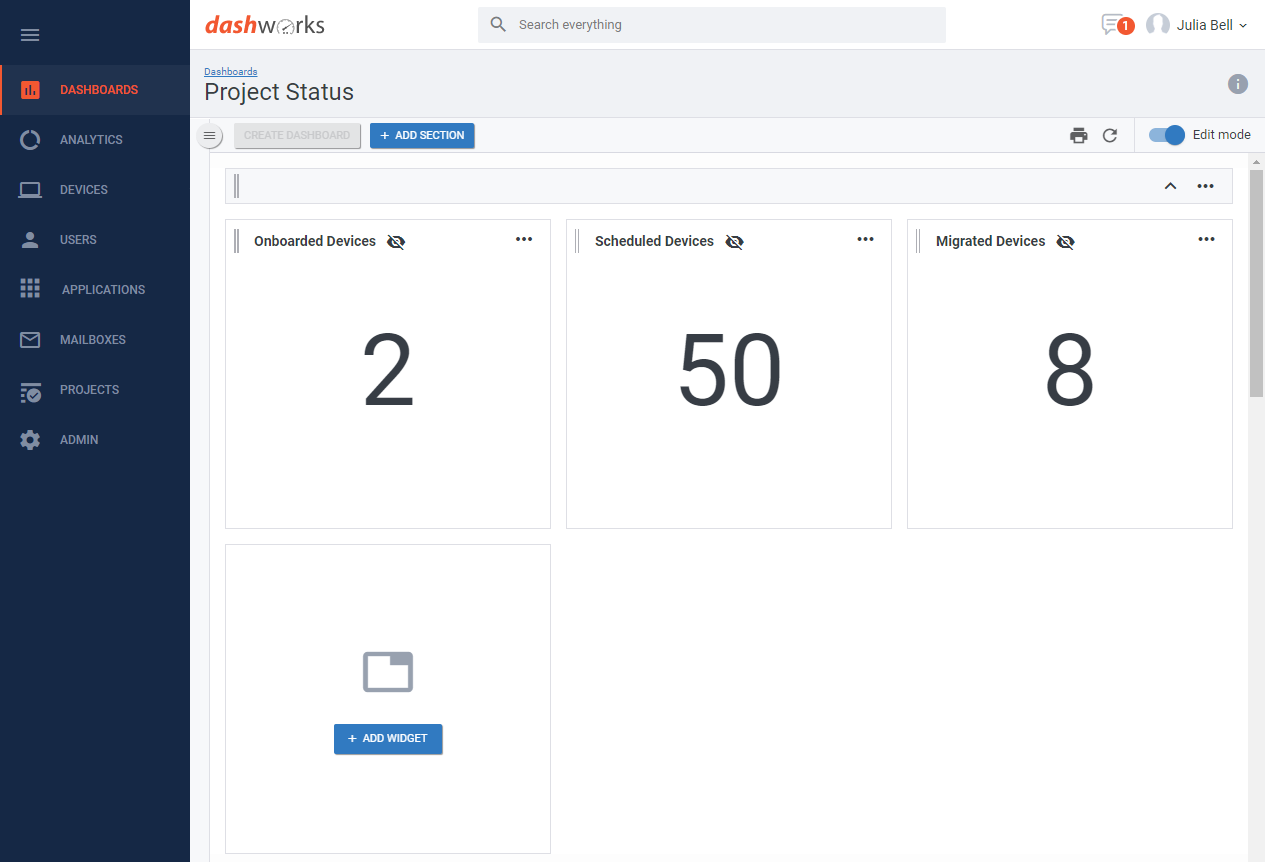 Widgets in a shared dashboard that rely upon private lists are identified by an icon when the dashboard is in edit mode (DAS-16245). This assists in identifying problems that may occur when sharing your dashboard with others. Widgets can now be moved between sections without having to delete and recreate them (DAS-14618).
There are now 3 new custom sort orders for widgets in Dashboards: Status (e.g. Forecast, Scheduled, Migrated), Rings and Capacity Slots (DAS-15825, DAS-16274, DAS-15827). All of these will now be sorted in their defined display order instead of alphabetically. These sort orders will be applied automatically when choosing these fields.
Export & Import Mail Templates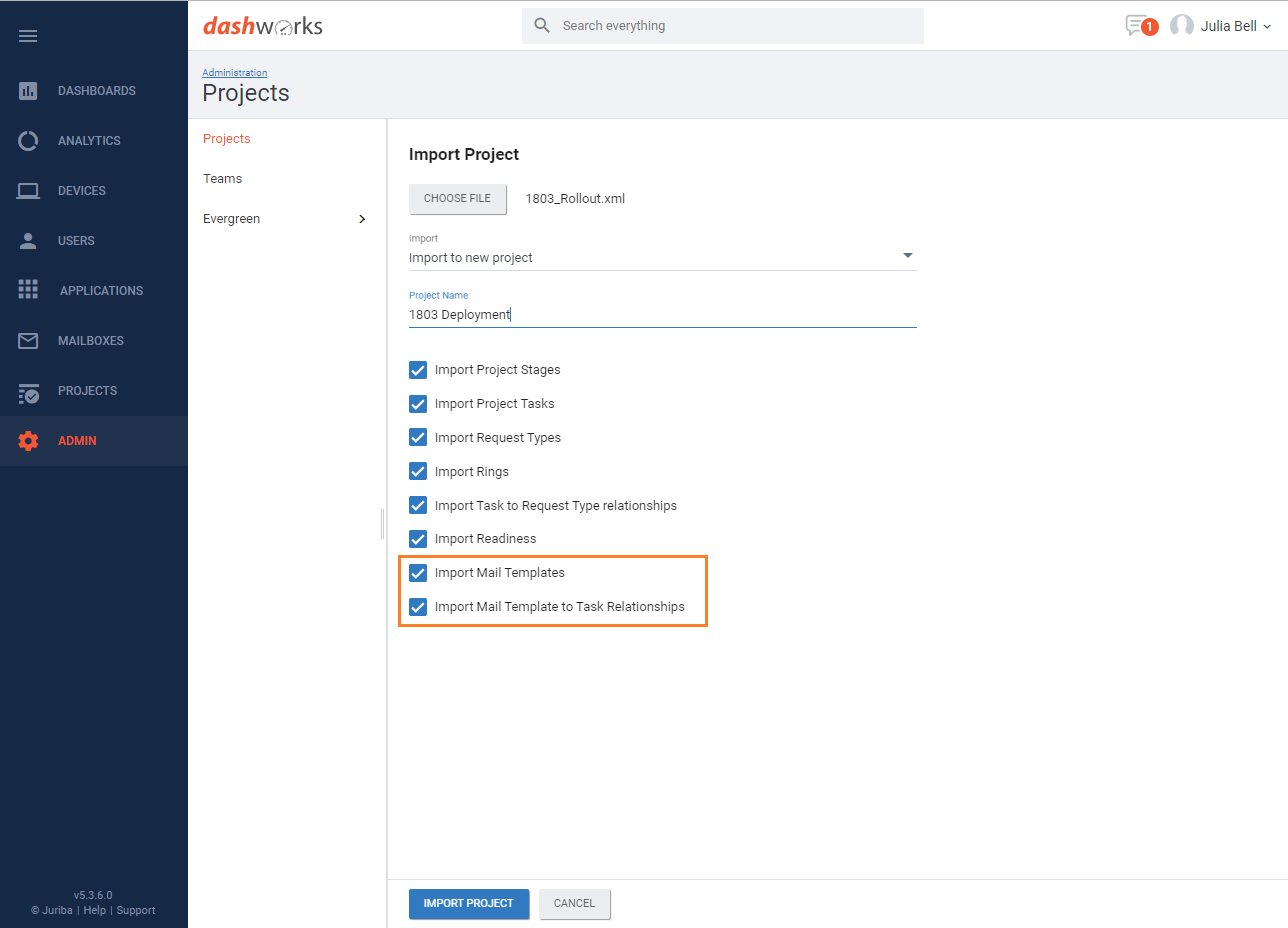 When exporting a project (functionality available in the Management Console), mail templates are now included in the XML file produced. When importing this file to a new or existing project the option is given to import these mail templates and their association to any tasks in the project. Attachments to mail templates are not included in the export/import and will need to be added manually following the import, if required.
What's Improved
DAS-16297 Device Details: Count of objects in Submenu
DAS-16338

Device Details: Crumb Trail in header
DAS-15591

Consistency across the system in the use of tool tips
DAS-16269

Update Evergreen Admin sub menu to new pattern
DAS-16384

Evergreen Admin: Clickthroughs from Buckets, Rings and Capacity Units to have an additional column to indicate the entity
DAS-16470

Evergreen Details > Project Summary: Only show values in data for category and workflow columns
What's Changed
DAS-16430

Evergreen Details: Remove all Page Headers in the Evergreen Objects Detail pages
DAS-16595

Evergreen Admin: Submenu to be removed for Capacity Units and Rings as it is for Buckets
What's Been Fixed
DAS-16175

Errors may be displayed in Legacy Project Object page for a period after a readiness is deleted
DAS-16303

Evergreen Details: Rings column filters don't work correctly
DAS-16564

Device Details > Applications: 'Manufacturer' column should be 'Vendor'
DAS-16617

Evergreen Admin: Readiness column doesn't sort on clicking the header
DAS-16650

Evergreen Dashboards: Widget that was moved to the start gets returned to the original place after editing
Known Issues
DAS-16696

Dashboards Move to section option should not be available if only one section available
DAS-16666 Evergreen import project success banner link does not load the correct page
DAS-16654

When a filter is selected and has a broken list or invalid task value, the error message should be changed from No devices found to Fix the errors in this list, this list contains a filter with error
Dashworks 5.3.5 Released 17 May 2019
Dashworks 5.3.4 Released 25 April 2019
Dashworks 5.3.3 Released 4 Mar 2019
Dashworks 5.3.2 Released 7 Feb 2019
Dashworks 5.3.1 Released 4 Dec 2018
Dashworks 5.3.0 Released 6 Nov 2018
Dashworks 5.2.9 Released 28 Sept 2018
Dashworks 5.2.8 Released 5 Sept 2018
Dashworks 5.2.7 Released 2 Aug 2018