Welcome to the Dashworks Release Notes page. Here you will find information on our very latest version of Dashworks.
You can also find information on previous releases linked at the end of this page.
The latest notes video covering releases 5.6.4 & 5.6.5 will be available shortly
here

.
For the latest Dashworks AppM release notes please click

here.
If you would like to be notified by email when a new release is published, you can subscribe using the form on the right.
Executive Summary
You can use email notifications to communicate with users about project deployment and Task updates. This release includes a number of improvements to email notifications, such as the Send Now button and the ability to send multiple email notifications at once. Application Compliance has also been updated, enabling Analysis Editors to manage application compatibility and compliance more efficiently. Additionally, Project columns and filters now allow you to manage All Application Devices in Evergreen, replacing App (Group) Dashboards in Senior.
Highlights
Send Now in Task Emails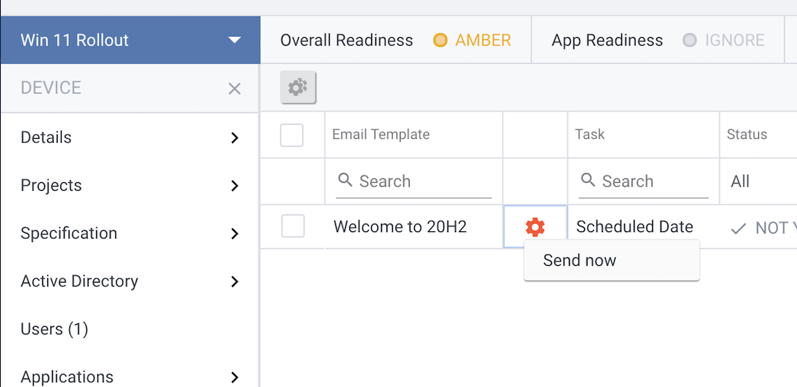 The Send now button allows you to send an email notification from an object with Tasks by clicking the Cog menu > Send Now. This useful feature has been improved so that the Send Now button sends one notification, instead of sending all the pending notifications for the Task.
Additionally, you can select multiple email notifications and send them using the action menu at the top of the Task emails grid.
Application Compliance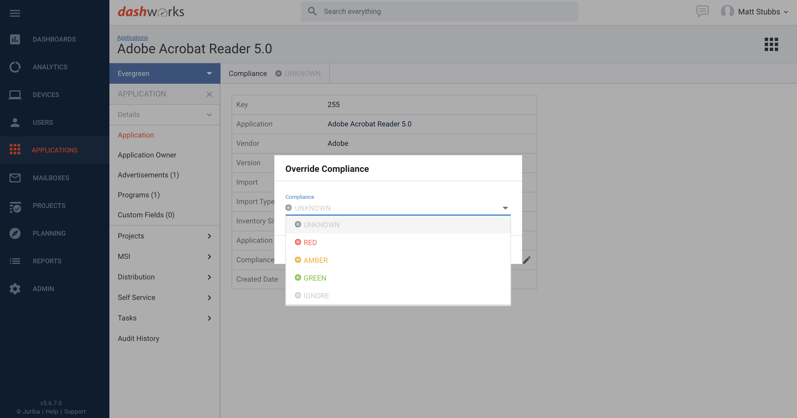 A user with a role of Analysis Editor can change the Compliance on the Application details page using the pencil button. This is useful if you want to change the the compatibility of a particular application.
Compliance changes are only applied when the transform is finished and changed Compliance is indicated by the crossed-arrow icon displayed next to the Compliance name.
Application Lists with Project Information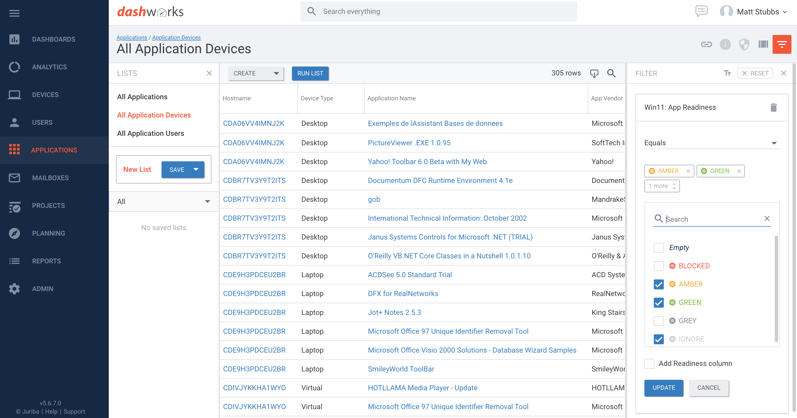 Project columns and filters allow you to manage All Application Devices, replacing Senior App (Group) Dashboards. You can now view Project information in the application association lists, allowing you to see application information for different objects in your organisation.
What's Improved
What's Changed
What's Been Fixed
Known Issues
DAS-30255 Simple calendar (rather than advanced) is displayed to an end user, if there are no Slots with Capacity Unit mode and the Allow user to change capacity unit check box is selected
DAS-30335 Capacity Calendar shows the wrong tooltip on available/unable slots, depending on which language has been selected
Notices
For more information about any of the items under notices please contact support@juriba.com
Dashworks 5.7.6

Dashworks 5.7.6 will be released in early Aug 2022

Dashworks has supported neither Internet Explorer (IE) nor Edge in Internet Explorer Mode since 5.6.1 (Apr 2021). While unsupported, the application has continued to be usable in IE. However, Dashworks 5.7.6 will introduce breaking changes that will result in Dashworks becoming unusable in Internet Explorer from this version onwards.

IE 11 will no longer supported by Microsoft on most versions of Windows 10 from 15 Jun 2022.

End of support for Microsoft SQL Server 2016.
Previous Releases
Dashworks 5.6.7 Released 30 September 2021
Dashworks 5.6. Released 31 August 2021
Dashworks 5.6.5 Released 6 August 2021
Dashworks 5.6.4 Released 1 July 2021
Dashworks 5.6.3 Released 11 June 2021
Dashworks 5.6.2 Released 7 May 2021
Dashworks 5.6.1 Released 6 April 2021
Dashworks 5.6 Released 2 March 2021
Dashworks 5.5.6 Released 4 February 2021
Dashworks 5.5.5 Released 4 December 2020
Dashworks 5.5.4 Released 30 October 2020
Dashworks 5.5.3 Released 8 October 2020
Dashworks 5.5.2 Released 10 September 2020
Dashworks 5.5.1 Released 31 July 2020
Dashworks 5.5.0 Released 30 June 2020
Dashworks 5.4.9 Released 3 June 2020
Dashworks 5.4.8 Released 7 May 2020
Dashworks 5.4.7 Released 3 April 2020
Dashworks 5.4.6 Released 10 March 2020
Dashworks 5.4.5 Released 3 February 2020
Dashworks 5.4.4 Released 2 December 2019
Dashworks 5.4.3 Released 7 November 2019
Dashworks 5.4.2 Released 27 September 2019
Dashworks 5.4.1 Released 2 September 2019
Dashworks 5.4.0 Released 5 August 2019
Dashworks 5.3.7 Released 28 June 2019
Dashworks 5.3.6 Released 7 June 2019
Dashworks 5.3.5 Released 17 May 2019
Dashworks 5.3.4 Released 25 April 2019
Dashworks 5.3.3 Released 4 Mar 2019
Dashworks 5.3.2 Released 7 Feb 2019
Dashworks 5.3.1 Released 4 Dec 2018
Dashworks 5.3.0 Released 6 Nov 2018
Dashworks 5.2.9 Released 28 Sept 2018
Dashworks 5.2.8 Released 5 Sept 2018
Dashworks 5.2.7 Released 2 Aug 2018