Welcome to the main Dashworks Release Notes page. Details of the latest Dashworks Release are highlighted below.
You can find information on previous releases linked at the end of this page or watch the Dashworks updates videos here.
If you would like to be notified by email when a new release is published, you can subscribe using the form on the right.

Executive Summary
The device ownership component for self service comes out in this release, supporting a number of use cases including hardware lifecycle projects and Windows 10 servicing. Resynchronising devices, users, mailboxes and users between Evergreen and a project can now be done as an automated background task as well as being available in the Evergreen UI via lists. This ensures that the information in your project is always kept up to date. In a further improvement to Email Migrations, mailboxes that have been decommissioned can now still be seen in Mailbox lists.
Highlights
Evergreen Self Service Device Ownership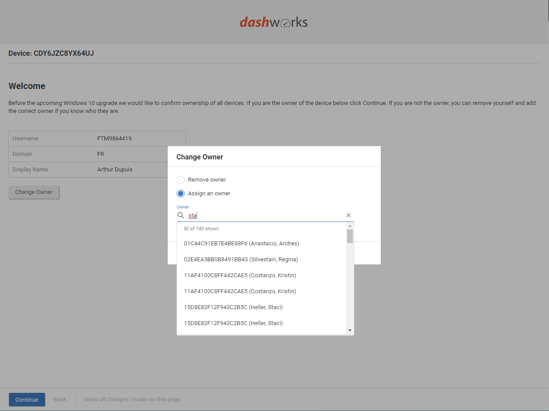 The latest component to be added to Evergreen self service is Device Ownership. This allows project teams to present a targeted, customisable screen to end users which enables them to confirm or change the ownership of a device. Establishing and validating the owner of a device in advance of initiating any change is a key success factor in many different types of project.
Resync Automation and Bulk Update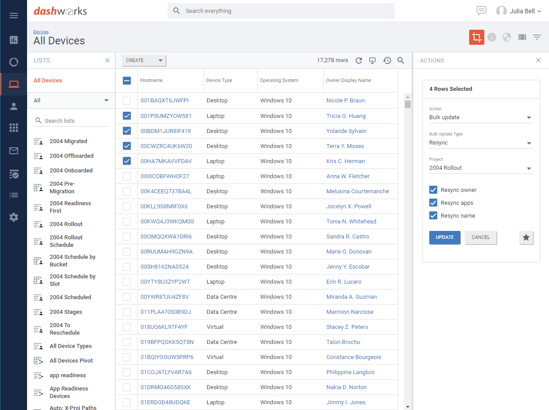 The enhanced object resync capabilities in Evergreen are now available via both bulk update and automations. This resync function allows you to align properties of an object in a project with those in Evergreen. The properties that are resynced are different for each object type, but these include object name, owner, apps and application attributes.
Include Archived Mailboxes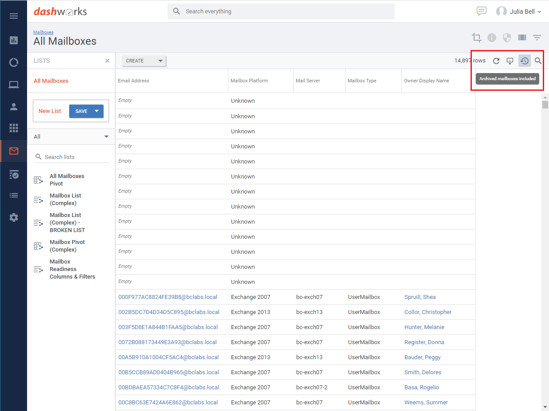 Mailboxes that have dropped out of the live data feeds since they were first imported can now be seen using the Include Archived Mailboxes function. They can be toggled on and off in the Mailboxes list using a new button. This allows you to continue to see project information about mailboxes that have been migrated and therefore decommissioned.
What's Improved
DAS-21805 Application Details > Project Details > Update App Rationalisation
DAS-21816 Application Details > Distribution > Evergreen Users & Devices
DAS-21888 Application Details > Distribution > Project Users & Devices
DAS-22541 Admin> Data Imports
DAS-22337 Devices > Self Service columns
DAS-22339 Devices > Self Service filters
DAS-22336 Device Details > Self Services
DAS-22390 Device Details > Self Service Status
DAS-22363 Added "Empty" and "Not Empty" operators for the "Project: App Target ID" filter
DAS-21426 Lists > Bulk Update filters
DAS-22543 Reports > Bulk Update > Object Type column
DAS-22522 Reports > Bulk Update > Results for all users
DAS-22454 Lists > Remove default favourite bulk update
DAS-21720 Users > User Principal Name column and filter
What's Changed
DAS-22310 Users > Device Count column and filter renamed to Device Count (Owned)
DAS-22310 Users > Project Device Count column and filter renamed to Device Count (All)
DAS-22141 Admin > Evergreen > Rings: Project rings removed
DAS-21531 App readiness has been replaced with an application task
DAS-21588 Lists: Package Type renamed to Application Type
What's Been Fixed
DAS-22076 Created apps not shown when searching for app to forward path to
DAS-22631 Search within list errors when there are multiple LDAP columns
DAS-21803 Performance issues in Admin > Evergreen > Buckets
DAS-22330 Import Type filter includes retired values
DAS-22133 Dashboard clickthroughs do not match the row count for multivalued fields
DAS-22846 Self Service app ownership component is displayed for offboarded objects
DAS-22577 Members of the Team cannot edit Dashboards when we use teams to assign Admin or Edit permissions to Evergreen Dashboards
DAS-22207 Windows Auth Users Don't Get roles assigned via Azman until visiting Legacy UI
DAS-22452 Evergreen: Data imports page error is shown instead of the Product is not activated page error, when Dashworks is not licensed
DAS-22773 Incorrect object type on Bulk update results page
DAS-22567 Empty fields are displayed when switching between favourite bulk update and system bulk updates
DAS-22660 Automation action for update ring isn't created if using Evergreen
Known Issues
DAS-22998 Lists, in some circumstances, do not respect the timeout parameter

DAS-23084 User can update buckets owned by teams he doesn't belong via Bulk update

DAS-22013 Self Service owner might not to be onboarded if there is already a large number of objects is in onboarding queue

DAS-23315 App rationalisation is not resynced when Evergreen Rationalisation is Keep

DAS-23416 Applications are not resynced via the automation resync feature, if the project is a legacy project that was imported as an Evergreen project

DAS-23162 Archived mailbox items do not show in dashboard widgets
Dashworks 5.5.2 Released 10 September 2020
Dashworks 5.5.1 Released 31 July 2020
Dashworks 5.5.0 Released 30 June 2020
Dashworks 5.4.9 Released 3 June 2020
Dashworks 5.4.8 Released 7 May 2020
Dashworks 5.4.7 Released 3 April 2020
Dashworks 5.4.6 Released 10 March 2020
Dashworks 5.4.5 Released 3 February 2020
Dashworks 5.4.4 Released 2 December 2019
Dashworks 5.4.3 Released 7 November 2019
Dashworks 5.4.2 Released 27 September 2019
Dashworks 5.4.1 Released 2 September 2019
Dashworks 5.4.0 Released 5 August 2019
Dashworks 5.3.7 Released 28 June 2019
Dashworks 5.3.6 Released 7 June 2019
Dashworks 5.3.5 Released 17 May 2019
Dashworks 5.3.4 Released 25 April 2019
Dashworks 5.3.3 Released 4 Mar 2019
Dashworks 5.3.2 Released 7 Feb 2019
Dashworks 5.3.1 Released 4 Dec 2018
Dashworks 5.3.0 Released 6 Nov 2018
Dashworks 5.2.9 Released 28 Sept 2018
Dashworks 5.2.8 Released 5 Sept 2018
Dashworks 5.2.7 Released 2 Aug 2018