Most enterprise IT migration projects end up being over time, over budget or simply a disaster. That's why Microsoft, HPE, other service partners, as well as dozens of large enterprises are leveraging Juriba's cutting edge tool, Dashworks, to manage their next major IT transformation project.
Let us guide you through the Dashworks software to give you the best opportunity to see how you can prepare for an enterprise IT migration in the easiest and fastest way possible. Find out if Dashworks is a fit for your organization and how you could deploy it in the most powerful way!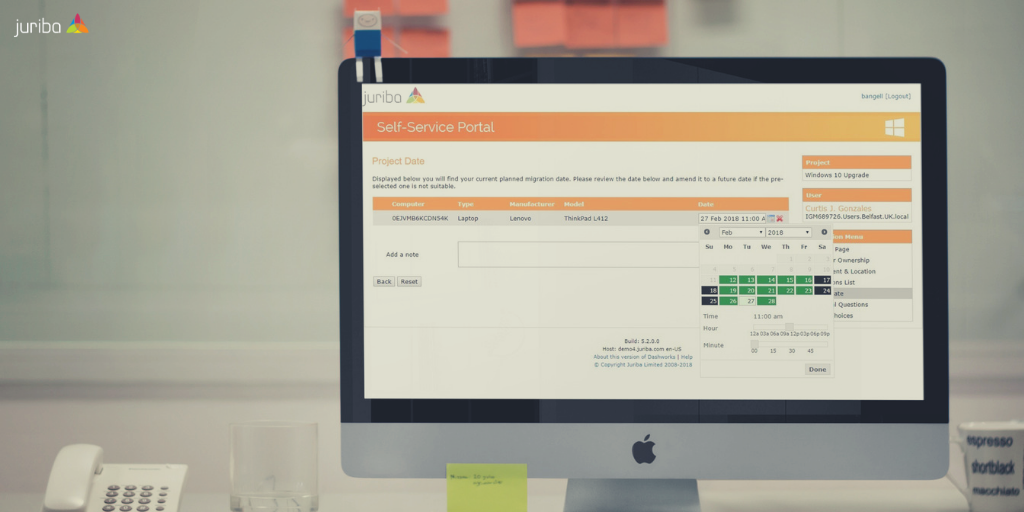 With Dashworks IT migration software you can:
Stay informed using our real-time dashboard
Build a single, authoritative source of project truth for every IT transformation
See every aspect of your project planning and scheduling in one pane of glass

Guide your multitude of users to readiness for Windows migration, Office 365 migration, email migration and more

Determine your best application and rollout path for desktop migration acceleration
Empower project managers to get started today with full control of project scope
Get a free demonstration of Dashworks to see how it works.
Simplify your IT migration project, help your organization save time and money and reduce the risk involved with Juriba's all-in-one IT transformation solution. Request your free demo by filling out the form on the right.